At present, there is no validated marker to identify the subpopulation of patients with advanced gastric cancer (AGC) who might benefit from neoadjuvant chemotherapy (NACT). In view of this clinical challenge, the identification of non-invasive biomarkers for efficacy prediction of NACT in patients with AGC is imperative. Researchers from the Peking University Cancer Hospital & Institute set out to develop a non-invasive, liquid-biopsy-based assay by using an exosome-derived RNAs model based on multi-omics characteristics of RNAs. They first used a multi-omics strategy to characterize the mRNAs, microRNAs (miRNAs) and long non-coding RNAs (lncRNAs) profiles of circulating exosome enriched fractions in responders to NACT paired with non-responders, using RNA sequencing. Finally, numerous miRNAs, mRNAs and lncRNAs were identified to be associated with the response to NACT in patients with AGC, and it was validated in an independent cohort with promising AUC values. Furthermore, the researchers established a 6-exosome-RNA panel that could robustly identified responders from non-responders treated with fluorouracil-based neoadjuvant chemotherapy.
Establishment and validation of a 6-exosome-RNA model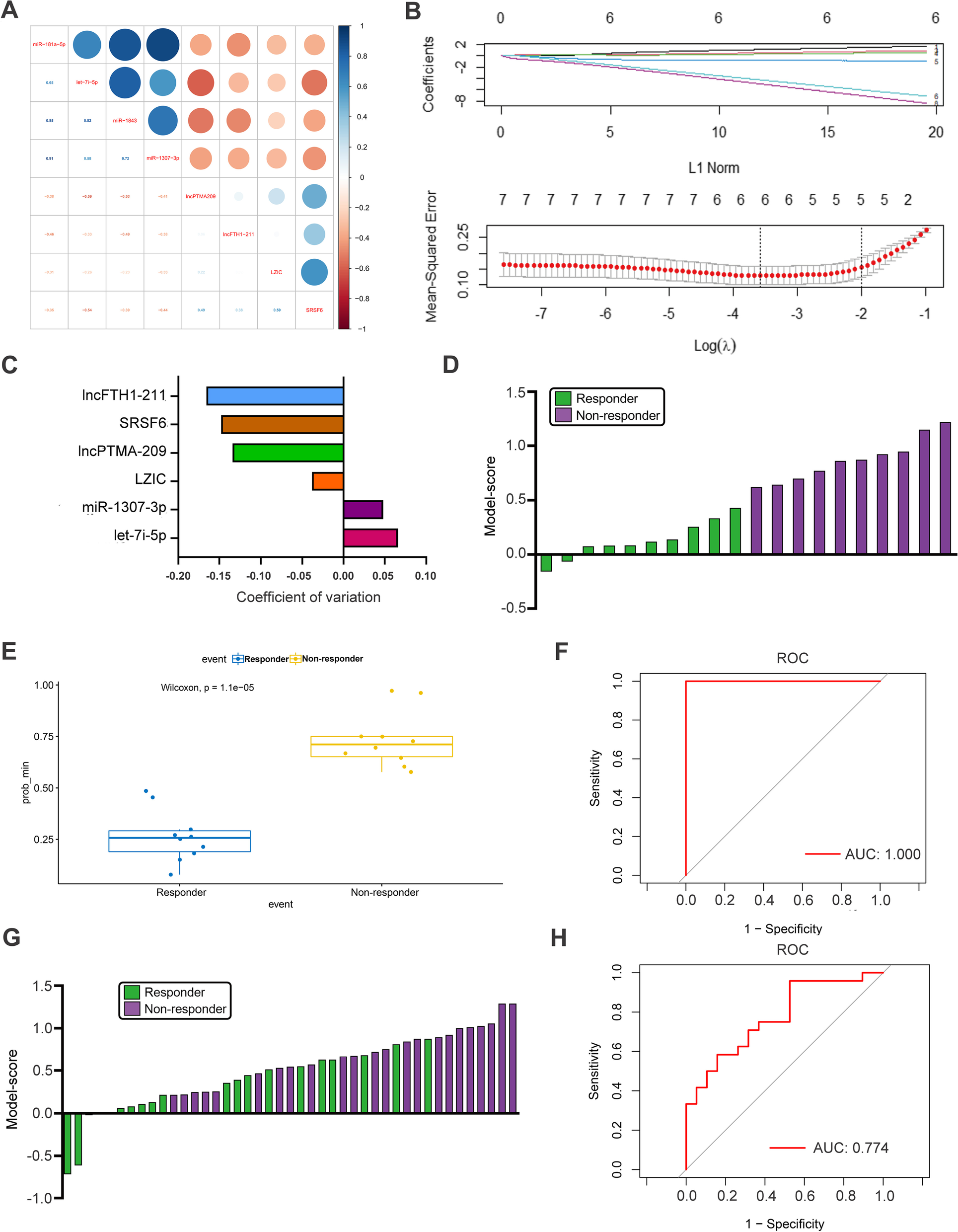 A The linear correlation analysis of 8 validated exosomal biomarkers. B The most robust predictive genes were identified using the least absolute shrinkage and selection operator (LASSO) Cox regression algorithm. C An ensemble of 6 genes remained with nonzero coefficients. D The scores of enrolled patients in the training set which were calculated based on the 6-exosome-RNA model. E-F The boxplot and the receiver operating characteristic (ROC) analyses illustrated the predictive ability of this 6-exosome-RNA model to identify responders in the training set. G The patients' scores in the validating set calculated according to the 6-exosome-RNA model. H The ROC analysis for the predictive power of the focal 6-exosome-RNA model, and the area under the ROC curve was 0.774
Guo T, Tang XH, Gao XY et al. (2022)
A liquid biopsy signature of circulating exosome-derived mRNAs, miRNAs and lncRNAs predict therapeutic efficacy to neoadjuvant chemotherapy in patients with advanced gastric cancer.
Molecular Cancer
21(216). [
article
]