The aim of this study was to identify a urine extracellular vesicle circular RNA (circRNA) classifier that could detect high-grade prostate cancer (PCa) of Grade Group (GG) 2 or greater. For this purpose, researchers at Sun Yat-Sen University used RNA sequencing to identify candidate circRNAs from urinary extracellular vesicles from 11 patients with high-grade PCa and 11 case-matched patients with benign prostatic hyperplasia. Using ddPCR in a training cohort (n = 263), the researchers built a urine extracellular vesicle circRNA classifier (Ccirc, containing circPDLIM5, circSCAF8, circPLXDC2, circSCAMP1, and circCCNT2), which was evaluated in two independent cohorts (n = 497, n = 505). Ccirc showed higher accuracy than two standard of care risk calculators (RCs) (PCPT-RC 2.0 and ERSPC-RC) in both the training cohort and the validation cohorts. In all three cohorts, this novel urine extracellular vesicle circRNA classifier plus RCs was statistically more predictive than RCs alone for predicting ≥ GG2 PCa. This assay, which does not require precollection digital rectal examination nor special handling, is repeatable, noninvasive, and can be easily implemented as part of the basic clinical workflow.
Performance of the Ccirc to detect high-grade PCa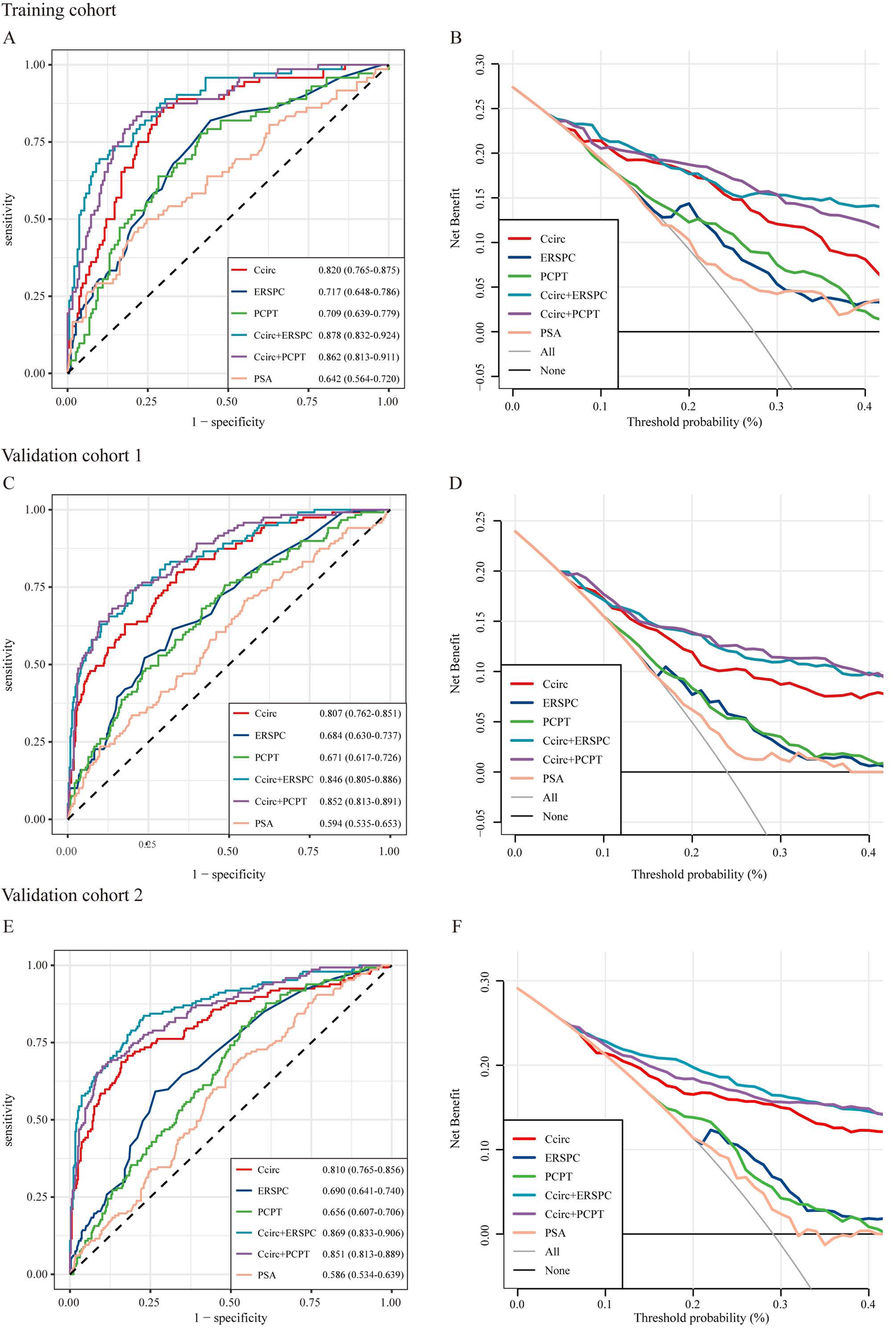 Area under receiver operating characteristic curves (AUC) are shown to compare performances of the Ccirc in (A) the training cohort (n = 263), (C) the validation cohort 1 (n = 497), and (E) the validation cohort 2 (n = 505) with and without PCPT-RC, ERSPC-RC, and PSA alone. The corresponding net benefit analysis for the three cohorts is shown (B) for the training cohort, (D) for the validation cohort 1, and (F) for the validation cohort 2. Ccirc = classifier containing five circRNAs. PCa = prostate cancer. PSA = prostate-specific antigen. ERSPC-RC = European Randomized Study of Screening for Prostate Cancer risk calculator. PCPT-RC = Prostate Cancer Prevention Trial risk calculator
He YD, Tao W, He T, Wang BY, Tang XM, Zhang LM, Wu ZQ, Deng WM, Zhang LX, Shao CK, Zhou J, Rong LM, Gao X, Li LY. (2021)
A urine extracellular vesicle circRNA classifier for detection of high-grade prostate cancer in patients with prostate-specific antigen 2-10 ng/mL at initial biopsy
.
Mol Cancer
20(1):96. [
article
]