The application of extracellular vesicles (EVs) derived from mesenchymal stem cells (MSCs) requires customized materials to target disease or cell damage. A team led by reaserchers at the Yonsei University Wonju College of Medicine hypothesized that EVs exert different inflammatory effects on one recipient cell, although stem cells of different origins in humans have similar payloads.
Here, the payload of EVs released by crosstalk between MSCs and human middle ear epithelial cells (HMEECs) extracted from adipose tissue, bone marrow and tonsils significantly increased the level of anti-inflammatory factors. EVs derived from the co-culture medium decreased TNF-α, COX-2, IL-1β, and IL-6 levels to approximately zero within 3 h in HMEECs. Expression of miR-638 and amyloid-β A4 precursor protein-binding family A member 2 was analyzed using microarrays and gene ontology analysis, respectively.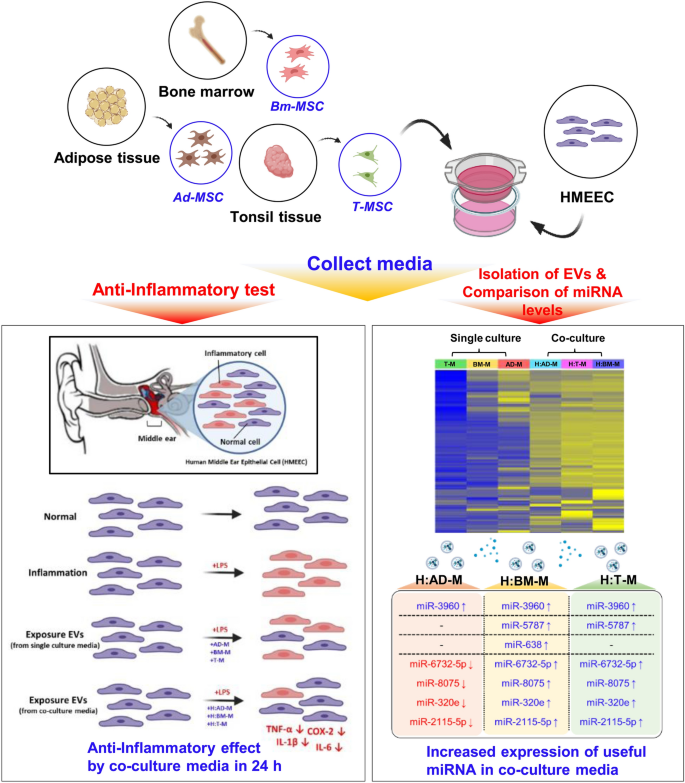 In conclusion, stem cells of different origins have different payloads through crosstalk with recipient-specific cells. Inducing specific factors in EVs by co-culture with MSCs could be valuable in regenerative medicine.
Park DJ, Park JE, Kong TH, Seo YJ. (2021)
Alteration of payload in extracellular vesicles by crosstalk with mesenchymal stem cells from different origin.
J Nanobiotechnology
19(1):148. [
article
]