According to current guidelines, more than 70% of patients with invasive submucosal colorectal cancer (T1 CRC) undergo a radical operation with lymph node dissection, even though only ~ 10% have lymph node metastasis (LNM). Hence, there is imperative to develop biomarkers that can help robustly identify LNM-positive patients to prevent such overtreatments. Given the emerging interest in exosomal cargo as a source for biomarker development in cancer, researchers from the Beckman Research Institute examined the potential of exosomal miRNAs as LNM prediction biomarkers in T1 CRC.
The researchers analyzed 200 patients with high-risk T1 CRC from two independent cohorts, including a training (n = 58) and a validation cohort (n = 142). Cell-free and exosomal RNAs from pre-operative serum were extracted, followed by quantitative reverse-transcription polymerase chain reactions for a panel of miRNAs. A panel of four miRNAs (miR-181b, miR-193b, miR-195, and miR-411) exhibited robust ability for detecting LNM in the exosomal vs. cell-free component. The researchers subsequently established a cell-free and exosomal combination signature, successfully validated in two independent clinical cohorts (AUC, 0.84; 95% CI 0.70–0.98). Finally, they developed a risk-stratification model by including key pathological features, which reduced the false positive rates for LNM by 76% without missing any true LNM-positive patients.
Performance evaluation of novel combination panel and risk-stratification model in predicting lymph node metastasis from high-risk T1 CRC patients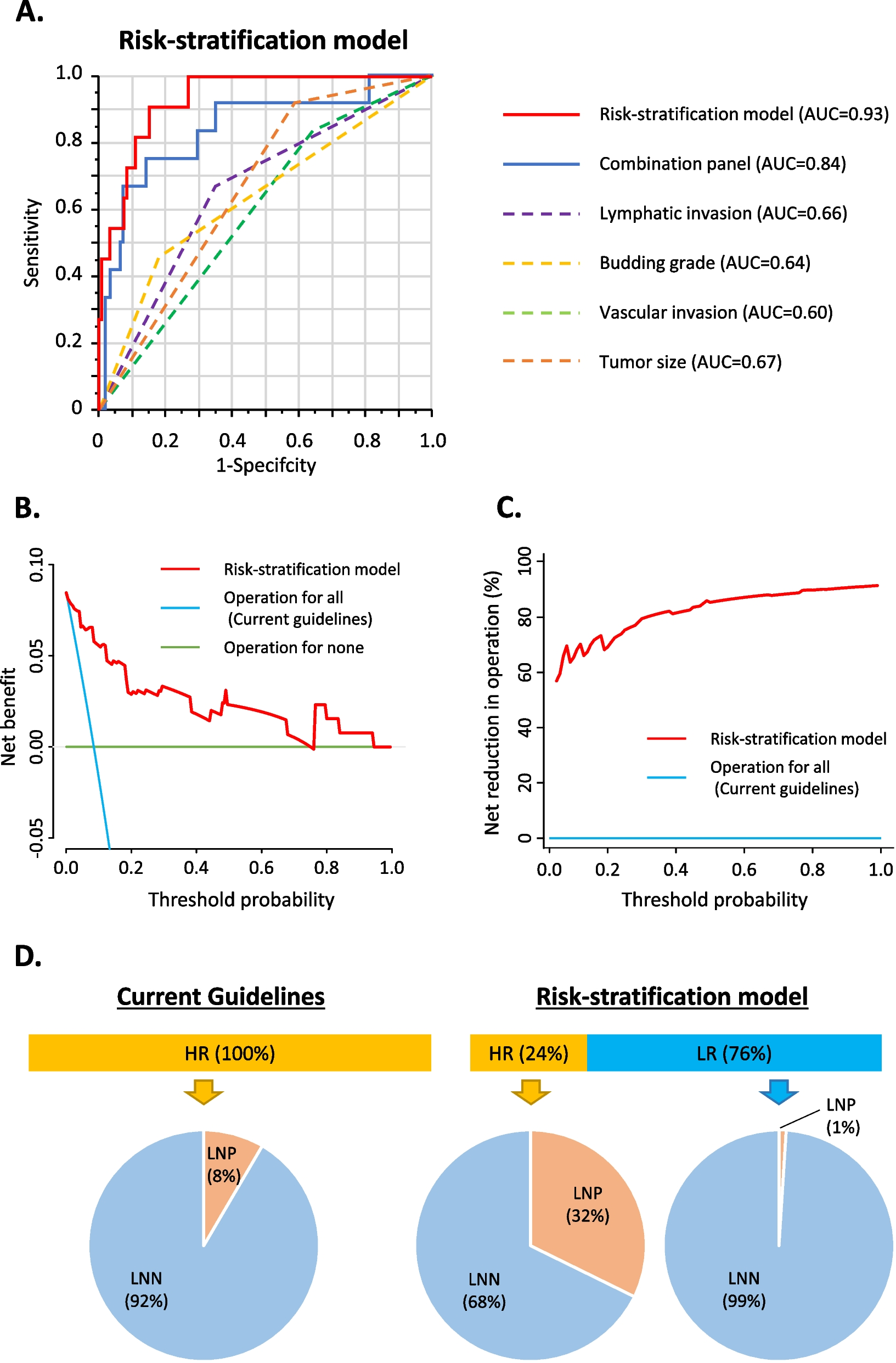 A A receiver operating characteristic curve analysis to compare the performance of the combination panel, key pathological features, and risk-stratification model in a validation cohort. B Decision curve plotting net benefit (detection of lymph node metastasis) against threshold probability. C Decision curve plotting net benefit untreated (avoidance of unnecessary operation) against threshold probability. D Comparison of overtreatment frequency between current guidelines and our risk-stratification model. NPV: negative predictive value, PPV: positive predictive value, LNN: lymph node metastasis negative, LNP: lymph node metastasis positive, AUC: area under the curve
This novel exosomal miRNA-based liquid biopsy signature robustly identifies T1 CRC patients at risk of LNM in a preoperative setting. This could be clinically transformative in reducing the significant overtreatment burden of this malignancy.
Miyazaki K, Wada Y, Okuno K. et al. (2023)
An exosome-based liquid biopsy signature for pre-operative identification of lymph node metastasis in patients with pathological high-risk T1 colorectal cancer
.
Mol Cancer
[Epub ahead of print]. [
article
]