Breast cancer (BC) is one of the most frequent malignancies among women worldwide. Accumulating evidence indicates that long non-coding RNA (lncRNA) may affect BC progression. Exosomes, a class of small membrane vesicles, have been reported to promote tumor progression through transporting proteins, mRNAs, lncRNAs and some other small molecules. However, the interaction between exosome-related lncRNAs and the microenvironment of malignancies is unclear.
Fujian Medical University researchers investigated the relationship between exosome-related lncRNAs and BC microenvironment. 121 exosome-associated genes were extracted from ExoBCD database. Then, the Pearson analysis was used to screened out the exosome-related lncRNAs. After that, 15 exosome-related differentially expressed lncRNAs were identified by the correlation with BC prognosis. According to the sum of the expression of these 15 lncRNAs, extracted from The Cancer Genome Atlas, and the regression coefficients, an exosome-related lncRNAs signature was developed by using Cox regression analysis. With the median risk score of the training set, the patients in training and validation sets were separated to low-risk group and high-risk group. Subsequently, the lncRNA-mRNA co-expression network was constructed. The distinct enrichment pathways were compared among the different risk groups by using the R package clusterProfiler. The ESTIMATE method and ssGESA database were adopted to study the ESTIMATE Score and immune cell infiltration. Eventually, the expression of immune checkpoint associated genes, microsatellite instable and the immunophenoscore were further analyzed between different risk groups. Different risk groups exhibited different prognosis, with lower survival rate in the high-risk group. The differentially expressed genes between the different risk groups were enriched in biological processes pathways as well as immune responses. BC patients in high-risk group were identified with lower scores of ESTIMATE scores. Subsequently, the researchers noticed that the infiltrating levels of aDCs, B cells, CD8+ T cells, iDCs, DCs, Neutrophils, macrophages, NK cells, pDCs, Tfh, T helper cells, TIL and Tregs were obvious elevated with the decreased risk score in training and validation cohorts. And some immune signatures were significantly activated with the decreased risk score in both cohorts. Eventually, the exosome-associated lncRNAs risk model was demonstrated to accurately predict immunotherapy response in patients with BC. The results of this study suggest that exosome-related lncRNAs risk model has close relationship with prognosis and immune cells infiltration in BC patients. These findings could make a great contribution to improving BC immunotherapy.
Assessment of exosome-associated lncRNAs risk score as the
independent prognostic factor in breast cancer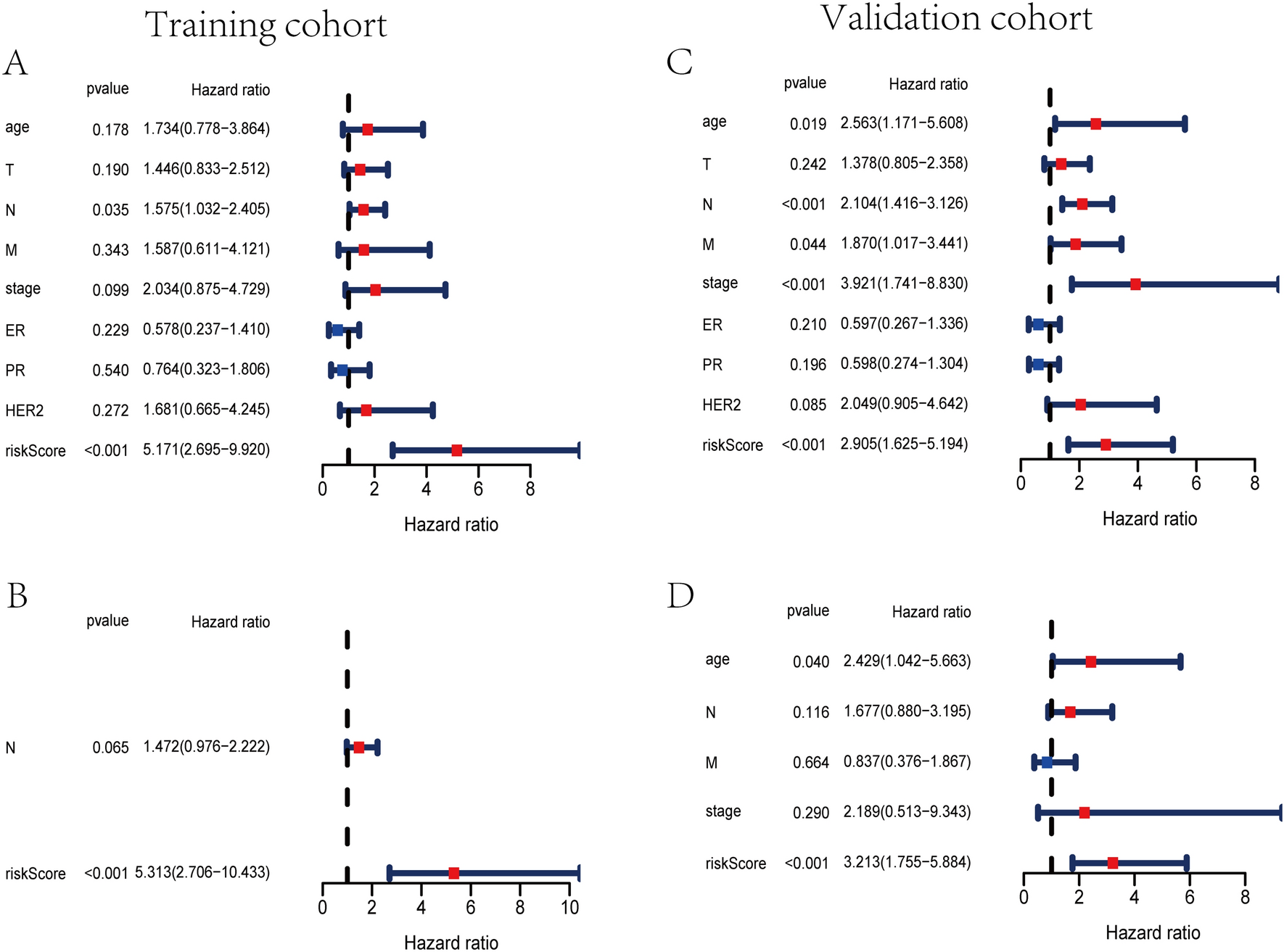 Univariate and multivariate Cox regression analysis of the risk model in the training cohort (A,B) and the validation cohort (C,D). (A) The forest plots for univariate Cox regression analysis indicated that risk score, and lymph node status were variables associated with prognostic risk in training set. (B) The forest plots for multivariate Cox regression analysis indicated that risk score was independent prognostic factors in training set. (C) The forest plots for univariate Cox regression analysis indicated that risk score, age, lymph node status, and AJCC stage were prognostic risk-related variables in validation set. (D) The forest plots for multivariate Cox regression analysis indicated that risk score and age were independent factors associated with prognosis in validation set.
Qiu P, Guo Q, Lin J, Pan K, Chen J, Ding M. (2022)
An exosome-related long non-coding RNAs risk model could predict survival outcomes in patients with breast cancer.
Sci Rep
12(1):22322. [
article
]