Bacterial extracellular vesicles (EVs) are more likely to cross biological barriers than whole-cell bacteria. University of Oulu researchers previously observed EV-sized particles by electron microscopy in the first-pass meconium of newborn infants. They hypothesized that EVs may be of bacterial origin and represent a novel entity in the human microbiome during fetal and perinatal periods.
The researchers extracted EVs from first-pass meconium samples of 17 newborn infants and performed bacterial 16S rRNA gene sequencing of the vesicles. They compared the EV content from the meconium samples of infants based on the delivery mode, and in vaginal delivery samples, based on the usage of intrapartum antibiotics. They found bacterial EVs in all first-pass meconium samples. All EV samples had bacterial RNA. Most of the phyla present in the samples were Firmicutes (62%), Actinobacteriota (18%), Proteobacteria (10%), and Bacteroidota (7.3%). The most abundant genera were Streptococcus (21%) and Staphylococcus (17%). The differences between the delivery mode and exposure to antibiotics were not statistically significant.
Taxonomic composition of bacterial EVs in the first-pass meconium of newborn infants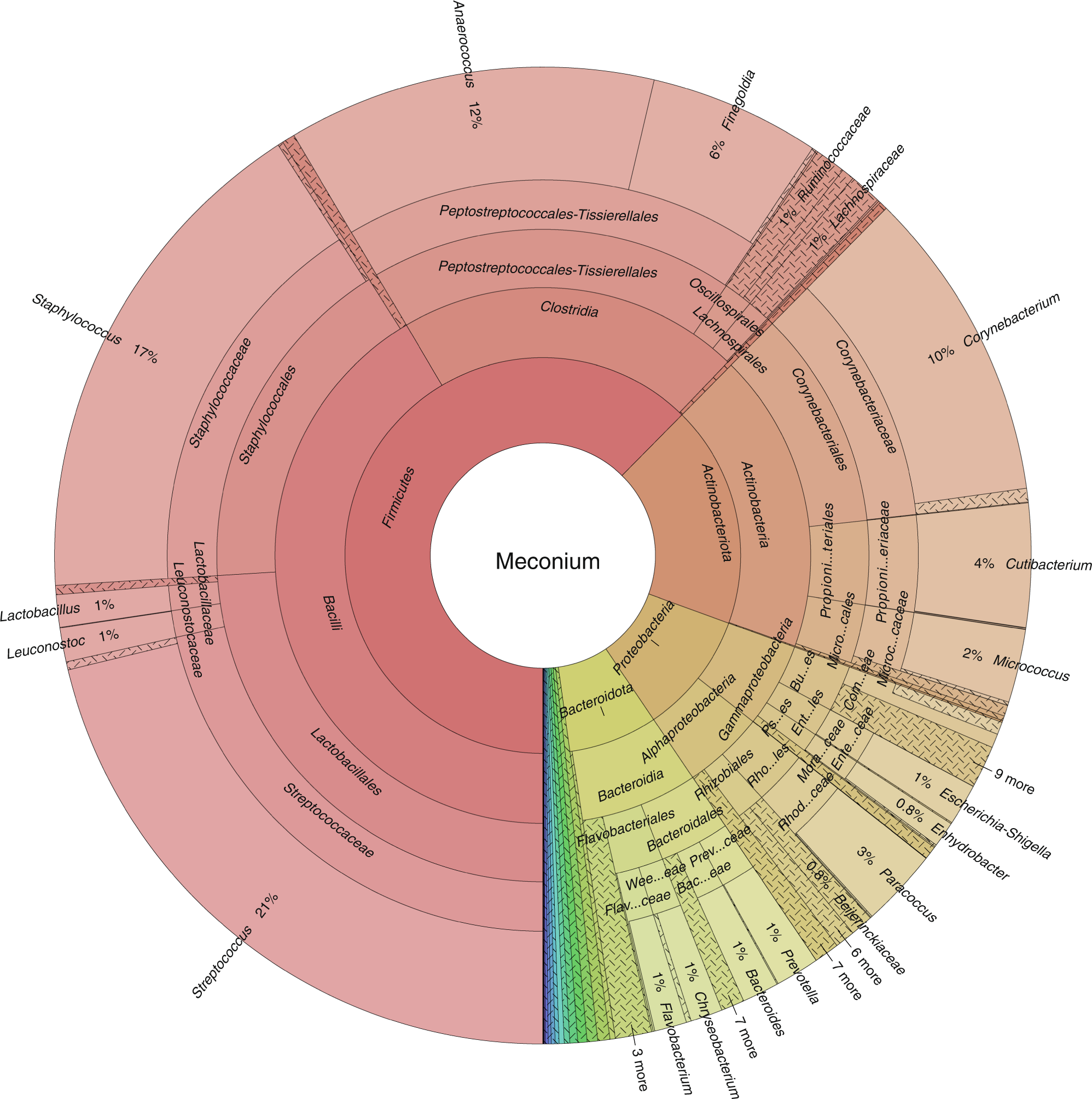 Taxonomic levels are presented from the phylum level (innermost circle) to the genus level (outermost circle). The figure was generated using the Krona program.
Turunen J, Tejesvi MV, Suokas M, Virtanen N, Paalanne N, Kaisanlahti A, Reunanen J, Tapiainen T. (2022)
Bacterial extracellular vesicles in the microbiome of first-pass meconium in newborn infants.
Pediatr Res
[Epub ahead of print]. [
article
]