It has been a long-held consensus that immune reactions primarily mediate the pathology of chronic obstructive pulmonary disease (COPD), and that exosomes may participate in immune regulation in COPD. However, the relationship between exosomes and peripheral immune status in patients with COPD remains unclear.
In this study, researchers at the University of Hong Kong sequenced plasma exosomes and performed single-cell RNA sequencing on peripheral blood mononuclear cells (PBMCs) from patients with COPD and healthy controls. Finally, they constructed competing endogenous RNA (ceRNA) and protein-protein interaction (PPI) networks to delineate the interactions between PBMCs and exosomes within COPD.
The researchers identified 135 mRNAs, 132 lncRNAs, and 359 circRNAs from exosomes that were differentially expressed in six patients with COPD compared with four healthy controls. Functional enrichment analyses revealed that many of these differentially expressed RNAs were involved in immune responses including defending viral infection and cytokine-cytokine receptor interaction. They also identified 18 distinct cell clusters of PBMCs in one patient and one control by using an unsupervised cluster analysis called uniform manifold approximation and projection (UMAP). According to resultant cell identification, it was likely that the proportions of monocytes, dendritic cells, and natural killer cells increased in the COPD patient they tested, meanwhile the proportions of B cells, CD4 + T cells, and naïve CD8 + T cells declined. Notably, CD8 + T effector memory CD45RA + (Temra) cell and CD8 + effector memory T (Tem) cell levels were elevated in patient with COPD, which were marked by their lower capacity to differentiate due to their terminal differentiation state and lower reactive capacity to viral pathogens.
Identification of exosomal differentially expressed mRNAs, lncRNAs, and circRNAs in COPD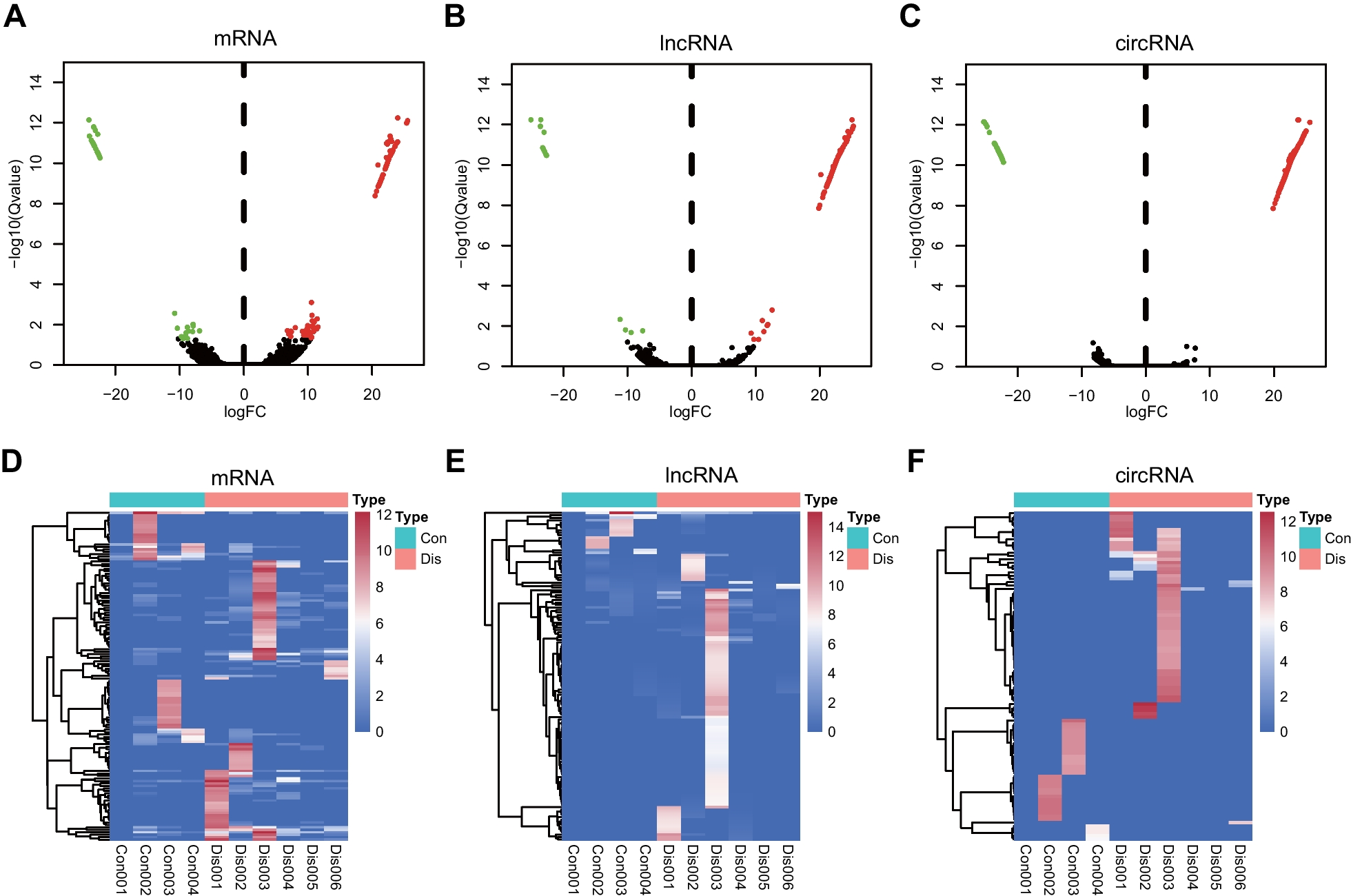 Volcano plots of exosomal differentially expressed A mRNAs, B lncRNAs, and C circRNAs. The green dots represent the downregulated genes, while the red dots represent the upregulated genes. Heatmap of the expression of differentially expressed D mRNAs, E lncRNAs, and F circRNAs
These researchers generated exosomal RNA profiling and single-cell transcriptomic profiling of PBMCs in COPD, described possible connection between impaired immune function and COPD development, and finally determined the possible role of exosomes in mediating local and systemic immune reactions.
Pei Y, Wei Y, Peng B, Wang M, Xu W, Chen Z, Ke X, Rong L. (2022)
Combining single-cell RNA sequencing of peripheral blood mononuclear cells and exosomal transcriptome to reveal the cellular and genetic profiles in COPD
.
Respir Res
23(1):260. [
article
]