Exosomes secreted by antigen presenting cells (APCs) can elicit immune responses by carrying major histocompatibility complex (MHC) class I molecules complexed with antigenic peptides and other co-stimulating factors. Researchers at Iowa State University have developed novel immunomagnetic nanographene particles to sequentially isolate, surface engineer, and release intact dendritic cell (DC) exosomes for use as a potential vaccine platform against respiratory syncytial virus (RSV) . The H-2Db-restricted, immunodominant peptides from RSV (M187–195 and NS161–75) were introduced to MHC-I on DC-derived exosomes to express peptide/MHC-I (pMHC-I) complexes. A mouse model of RSV infection was used to define the immunogenicity of surface engineered exosomes for activating virus-specific immune responses. Ex vivo assays demonstrated that engineered exosomes carrying RSV-specific peptides can elicit interferon-gamma (IFN-γ) production by virus-specific CD8+ T cells isolated from RSV-infected C57BL/6 mice. In vivo assays demonstrated that subcutaneous administration of both M187–195 and NS161–75 engineered exosomes to mice, with or without additional adjuvant, appeared safe and well tolerated, however, did not prime antigen-specific CD8+ T cell responses. Surface engineered exosomes are immunogenic and promising for further development as a vaccine platform.
Engineered exosomes were immunogenic for activating RSV-specific CD8 T cells ex vivo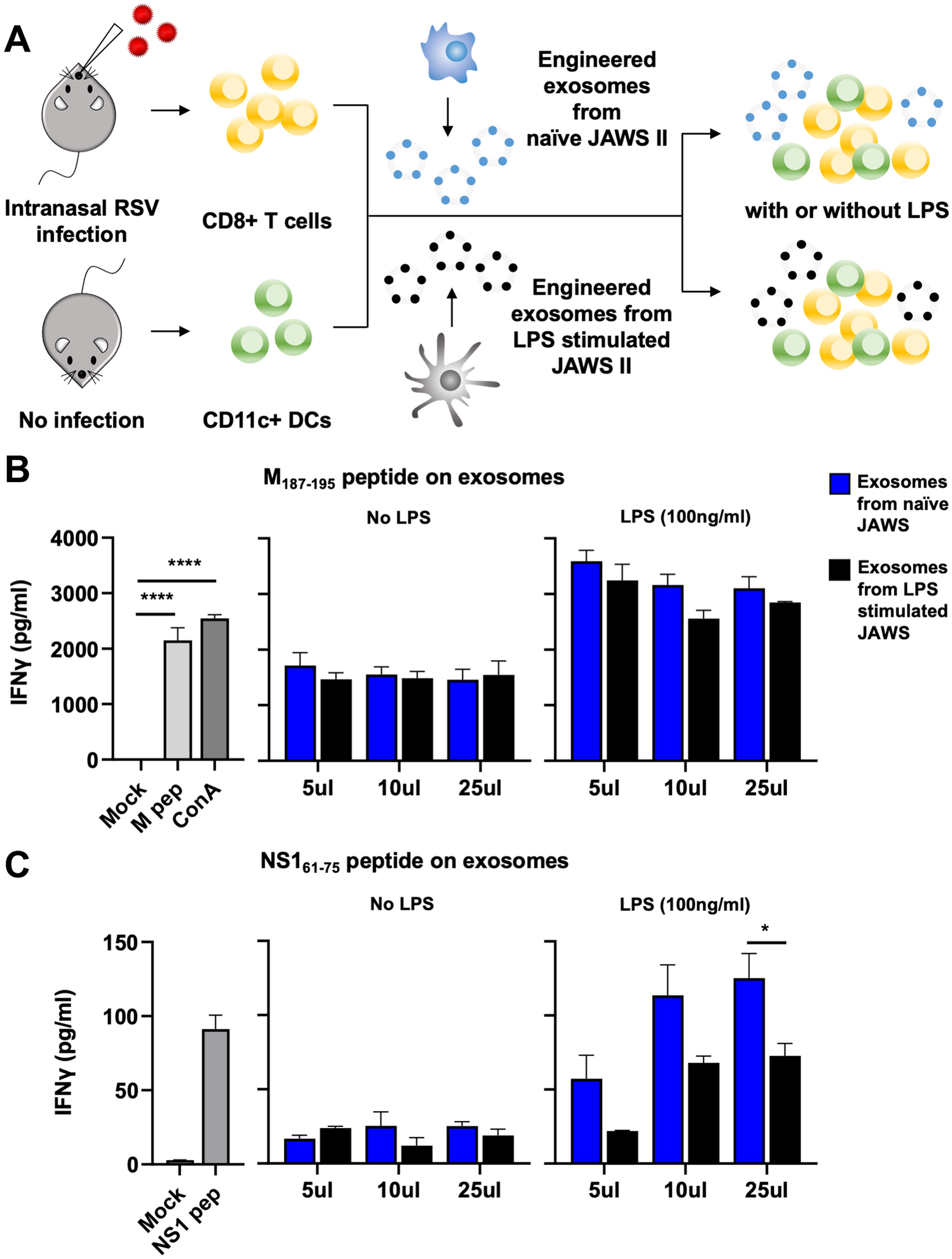 (A) Schematic illustration of the establishment of a DC-CD8 T cell co-culture model. C57BL/6J mice were infected intranasally with RSV strain A2 to generate RSV-specific CD8+ T cells. Magnetic-activated cell sorting (MACS) was used to sort CD8+ T cells from RSV-infected mice and CD11c + DCs from non-infected mice. CD8+ T cells and CD11c + DCs (5:3 ratio) were incubated for 72 h with escalating concentrations (5 μL, 10 μL, 25 μL) of exosomes engineered with M187–195 or NS161–75 peptides with or without LPS (100 ng/mL). (B, C) Cell culture supernatants were collected on day 3 of stimulation with M187–195 or NS161–75 engineered exosomes. The samples were diluted 1:4 and analyzed by commercial ELISA for IFN-γ. Data represent means ± SEM. ****p < 0.0001 as determined by one-way ANOVA and Dunnett's multiple comparisons test. *p < 0.05 as determined by two-way ANOVA and Šídák's multiple comparisons test.
Hong S, Ruan S, Greenberg Z, He M, McGill JL. (2021)
Development of surface engineered antigenic exosomes as vaccines for respiratory syncytial virus
.
Sci Rep
11, 21358. [
article
]