Because of their specific and biologically relevant cargo, urine extracellular vesicles (EVs) constitute a valuable source of potential non-invasive biomarkers that could support the clinical decision-making to improve the management of prostate cancer (PCa) patients. Different EV isolation methods differ in terms of complexity and yield, conditioning, as consequence, the analytical result.
Researchers from the Valencian Institute of Oncology (IVO) aimed to compare three different isolation methods for urine EVs: ultracentrifugation (UC), size exclusion chromatography (SEC), and a commercial kit (Exolute® Urine Kit). Urine samples were collected from 6 PCa patients and 4 healthy donors. After filtered through 0.22 µm filters, urine was divided in 3 equal volumes to perform EVs isolation with each of the three approaches. Isolated EVs were characterized by spectrophotometric protein quantification, nanoparticle tracking analysis, transmission electron microscopy, AlphaScreen Technology, and whole miRNA Transcriptome.
The results showed that UC and SEC provided better results in terms of EVs yield and purity than Exolute®, non-significant differences were observed in terms of EV-size. Interestingly, luminescent AlphaScreen assay demonstrated a significant enrichment of CD9 and CD63 positive microvesicles in SEC and UC methods compared with Exolute®. This heterogeneity was also demonstrated in terms of miRNA content indicating that the best correlation was observed between UC and SEC.
Box plots showing the median expression values for different EVs isolation methods of: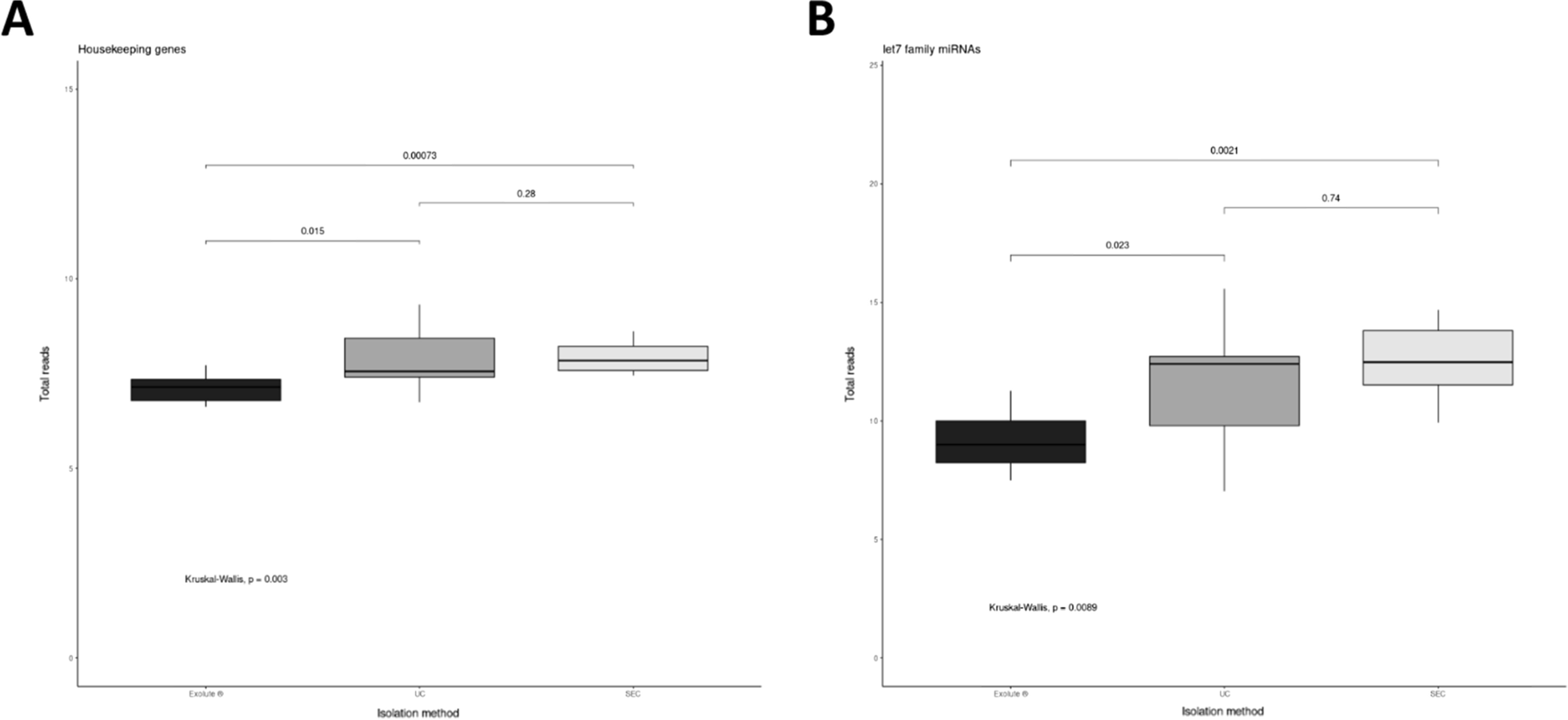 A Twelve housekeeping genes included in the WTA panel (probes for the following genes are included: B2M, GAPDH, PPIA, RNU47, RNU75, RNY3, RPL19, RPL27, RPS12, RPS20, SNORA66 YWHAZ); B Let-7 family of miRNAs (n = 15). In both cases, clear differences between UC and SEC with Exolute® were appreciated
This study highlights the importance of standardizing the urine EV isolation methods to guaranty the analytical reproducibility necessary for their implementation in a clinical setting.
García-Flores M, Sánchez-López CM, Ramírez-Calvo M, Fernández-Serra A, Marcilla A, López-Guerrero JA. (2021)
Isolation and characterization of urine microvesicles from prostate cancer patients: different approaches, different visions.
BMC Urol
21(1):137. [
article
]