Exosomes have come to the fore in drug delivery systems due to their biological-based and immune-suppressing properties. Researchers at Aydin Adnan Menderes University investigated the effect of doxorubicin loading of exosomes isolated from human platelets on breast cancer.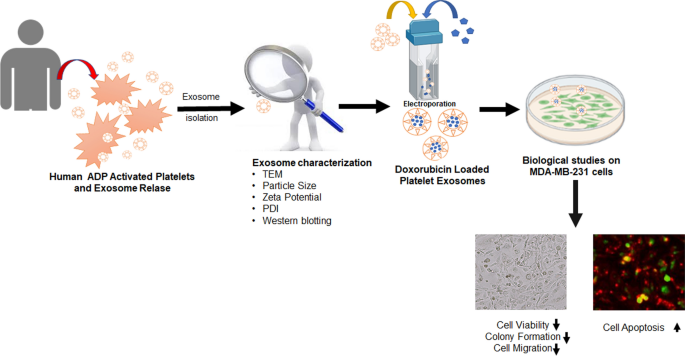 Exosomes released from ADP (1 µM)-activated platelets were isolated by the ultracentrifugation method, and their size and charge were measured with a TEM and zeta sizer. Thendoxorubicin (Dox) loading into exosomes (PLT-Exo-Dox) was done by electroporation and incubated with MDA-MB-231 cells. In exosome characterization, CD62 positivity was higher in platelet pellets, while CD9 positivity was higher in released exosomes. The size of PLT-Exo and PLT-Exo-Dox was 82.02 ± 5.21 nm and 116 ± 3.73 nm, with a polydispersity index of 0.26 ± 0.04 and 0.39 ± 0.06, and the Zeta potential was − 16.45 mV and 24.07 mV, respectively. The encapsulation efficiency of the preparation was 86.02 ± 6.16%, with a drug loading capacity of 4.75 ± 0.16 µg/µg of the exosome. In MDA-MB-231 cells, PLT-Exo increased cell viability, while PLT-Exo-Dox decreased in 24 h. The Annexin-V binding level and Bax gene expression were increased in PLT-Exo-Dox and Bcl-2 gene expression was decreased. This study will shed light on the development of release systems that can be effective with chemotherapeutic agents by using exosomes released by cells in the development of personalized treatments.
Uslu D, Abas BI, Demirbolat GM, Cevik O. (2022)
Effect of platelet exosomes loaded with doxorubicin as a targeted therapy on triple-negative breast cancer cells
.
Mol Divers
[Epub ahead of print]. [
abstract
]