The mechanism by which reactive oxygen species (ROS) produced by oxidative stress promote cellular senescence has been studied in detail. Researchers from the Yokohama University of Pharmacy aimed to verify the preventive or therapeutic effects of mesenchymal stem cell-derived exosomes (MSC-Ex) on the production of ROS induced by oxidative stress in human skin fibroblasts and clarify the mechanisms that promote cellular senescence. In a system where H2O2 was applied to skin fibroblasts, the researchers assessed the effects of the application of MSC-Ex before and after oxidative stress and measured the fluctuations in several signaling molecules involved in subsequent intracellular stress responses. Exosomes were isolated from MSCs (MSC-Ex) and normal human dermal fibroblasts (NHDFs, NHDF-Ex) before and after exposure to H2O2. NHDFs were treated with exosomes before and after exposure to H2O2. mRNA expression (aquaporin-1 and aquaporin-3) and hyaluronan secretion associated with skin moisturization were reduced by H2O2 treatment, whereas MSC-Ex reversed these effects. The cellular senescence induced by H2O2 was also reproduced in fibroblasts. Specifically, the downregulation of SIRT1 led to increased acetylated p53 expression over time, which induced the expression of p21, a downstream molecule of p53, and arrested the cell cycle, leading to cell senescence. MSC-Ex enhanced these signal transduction systems. MSC-Ex was also effective at blocking the increase of β-galactosidase activity and accumulation of ROS in cells. This effect was stronger than that of NHDF-Ex. MSC-Ex were found to act defensively against epidermal and cellular senescence induced by oxidative stress.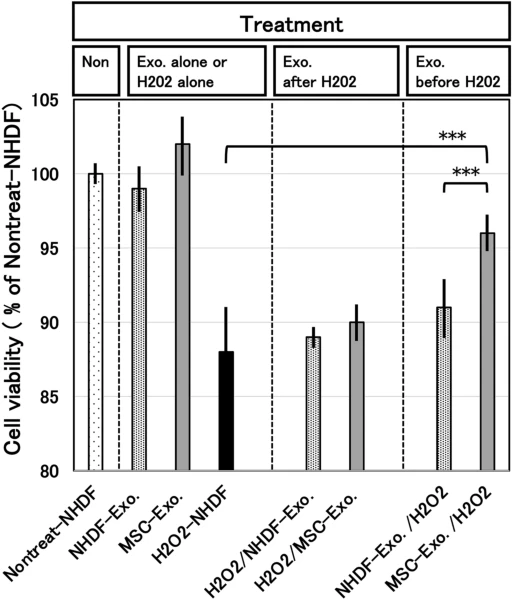 Matsuoka T, Takanashi K, Dan K, Yamamoto K, Tomobe K, Shinozuka T. (2021)
Effects of mesenchymal stem cell-derived exosomes on oxidative stress responses in skin cells
.
Mol Biol Rep
[Epub ahead of print]. [
abstract
]