The knowledge of exosome impact on sarcoma development and progression has been implemented in preclinical studies thanks to technological advances in exosome isolation. Moreover, the clinical relevance of liquid biopsy is well established in early diagnosis, prognosis prediction, tumor burden assessment, therapeutic responsiveness, and recurrence monitoring of tumors. In this review, we aimed to comprehensively summarize the existing literature pointing out the clinical relevance of detecting exosomes in liquid biopsy from sarcoma patients. Presently, the clinical utility of liquid biopsy based on exosomes in patients affected by sarcoma is under debate. Researchers from the IRCCS, Italy collect evidence on the clinical impact of exosome detection in circulation of sarcoma patients. The majority of these data are not conclusive and the relevance of liquid biopsy-based approaches in some types of sarcoma is still insufficient. Nevertheless, the utility of circulating exosomes in precision medicine clearly emerged and further validation in larger and homogeneous cohorts of sarcoma patients is clearly needed, requiring collaborative projects between clinicians and translational researchers for these rare cancers.
Principles of exosomes-based liquid biopsy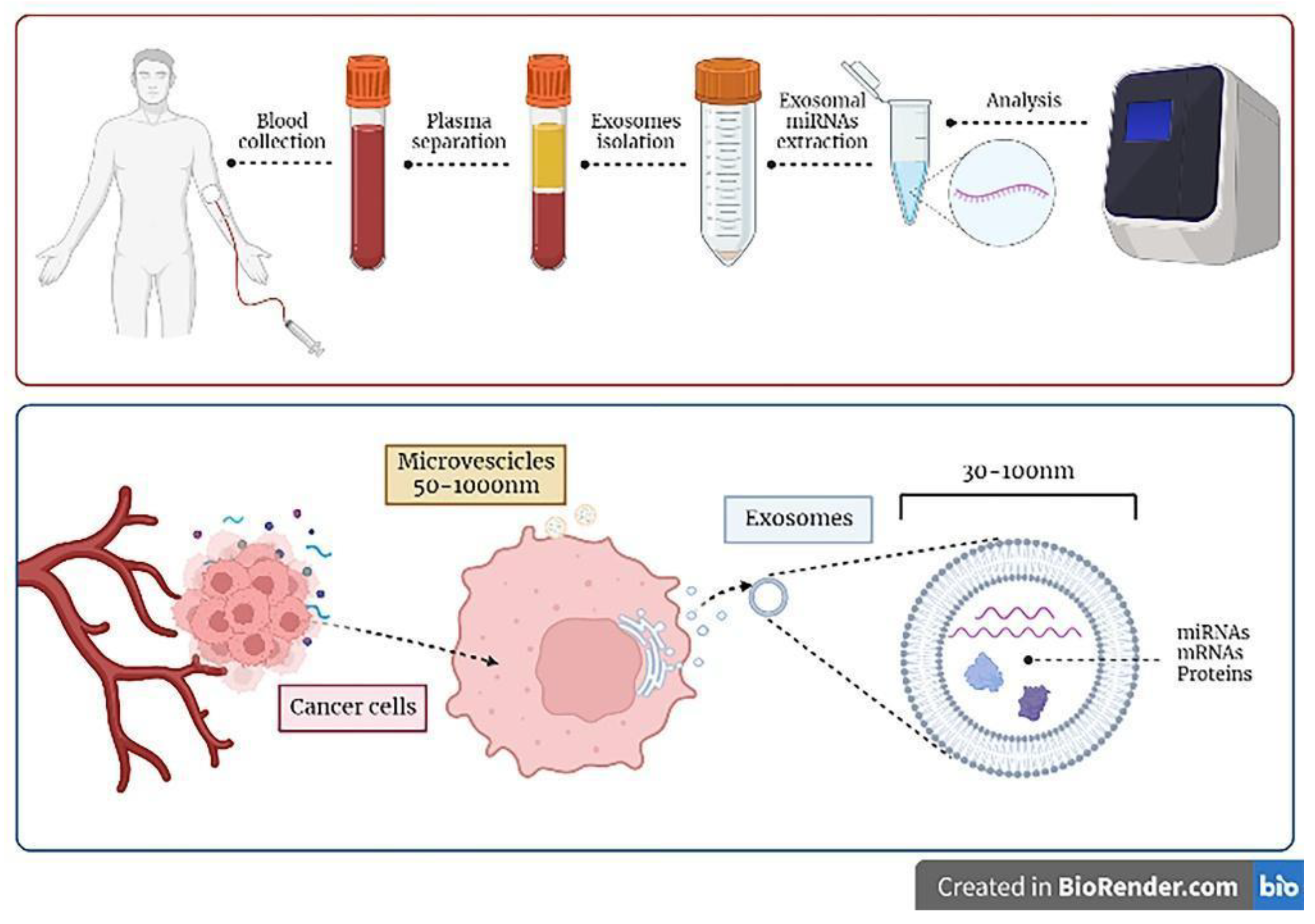 Exosomes can be detected in the serum or plasma of patients diagnosed with sarcoma by collecting blood samples of patients; exosomes can be selectively isolated and further characterized in their content (e.g., miRNAs molecules), which can be analyzed with the most advanced technologies (i.e., next generation sequencing analysis) in order to be informative. As depicted in the lower panel of the figure, cancer cells constitutively release exosomes and microvescicles in the extracellular medium, which then enter the circulation. Exosomes derive by the inward budding of cellular multivesicular bodies and contain informative molecules, e.g., miRNA, mRNAs, and proteins, that could be transferred to recipient cells.
Agnoletto C, Pignochino Y, Caruso C, Garofalo C. (2023)
Exosome-Based Liquid Biopsy Approaches in Bone and Soft Tissue Sarcomas: Review of the Literature, Prospectives, and Hopes for Clinical Application
.
Int J Mol Sci
24(6), 5159. [
article
]