Although exosome therapy has been recognized as a promising strategy in the treatment of rheumatoid arthritis (RA), sustained modulation on RA specific pathogenesis and desirable protective effects for attenuating joint destruction still remain challenges. Researchers at Jiangsu University photo-crosslinked silk fibroin hydrogel encapsulated with olfactory ecto-mesenchymal stem cell-derived exosomes (Exos@SFMA) in situ to yield long-lasting therapeutic effect on modulating the immune microenvironment in RA. This in situ hydrogel system exhibited flexible mechanical properties and excellent biocompatibility for protecting tissue surfaces in joint. Moreover, the promising PD-L1 expression was identified on the exosomes, which potently suppressed Tfh cell polarization via inhibiting the PI3K/AKT pathway. Importantly, Exos@SFMA effectively relieved synovial inflammation and joint destruction by significantly reducing T follicular helper (Tfh) cell response and further suppressing the differentiation of germinal center (GC) B cells into plasma cells. Taken together, this exosome enhanced silk fibroin hydrogel provides an effective strategy for the treatment of RA and other autoimmune diseases.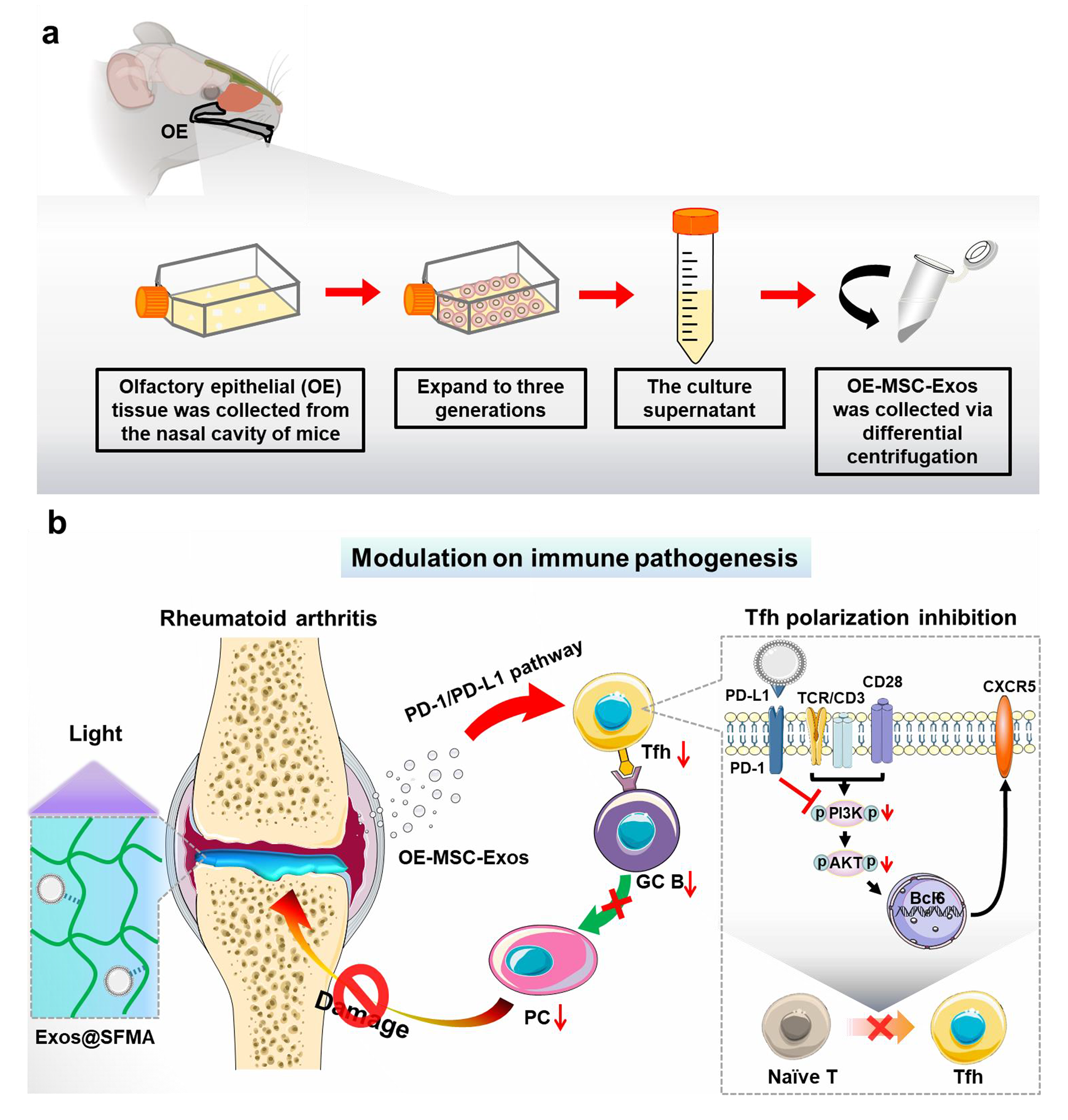 Schematic illustration of (a) isolation of exosomes from OE-MSCs obtained from olfactory lamina propria and (b) in situ gelation system improved exosome therapy for successfully modulating immune pathogenesis by inhibiting Tfh cell polarization and B cell development in RA.
Rui K, Tang X, Shen Z, Jiang C, Zhu Q, Liu S, Che N, Tian J, Ling J, Yang Y. (2023)
Exosome inspired photo-triggered gelation hydrogel composite on modulating immune pathogenesis for treating rheumatoid arthritis
.
J Nanobiotechnology
21(1):111. [
article
]