Exosomes include plasma-transported vesicles that are secreted by human tissues and reflect metabolic status. The profile of exosomes (particularly microRNA content) is altered in metabolic disease. In type 2 diabetes mellitus, exosomes circulating in plasma induce transcriptional changes related to tumour progression and pro-metastatic phenotypes in target cancer cells, potentially linking obesity to cancer progression and metastasis.
Circulating exosomes in metabolic disorders could induce tumour progression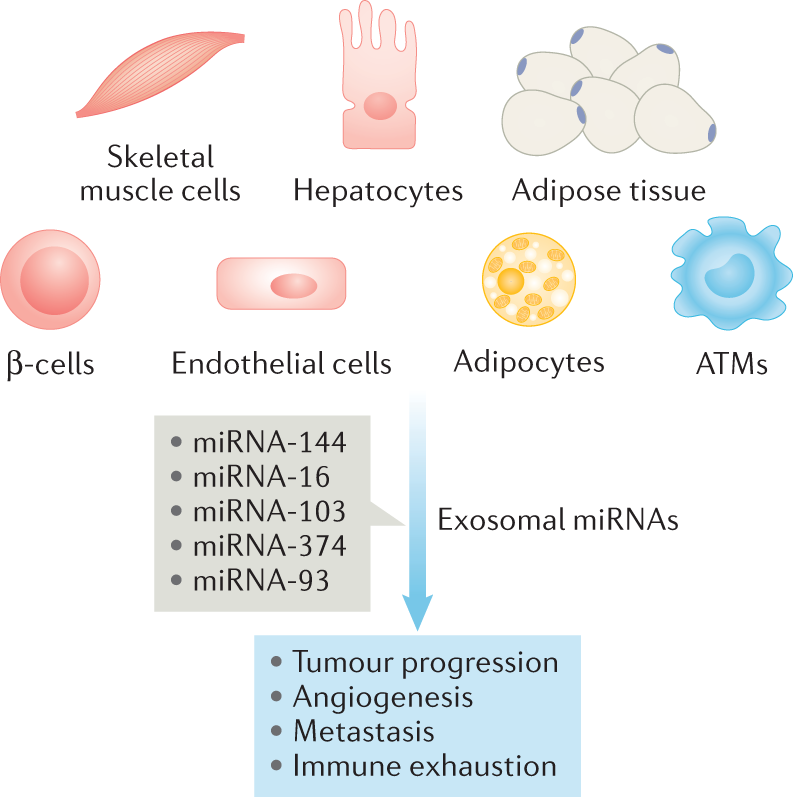 Metabolic disorders, such as type 2 diabetes mellitus, are characterized by a profile of circulating exosomes (secreted from various cells and tissues) with miRNA cargo distinct from individuals who are metabolically normal. Initial studies suggest that this abnormal miRNA cargo associates with tumour progression, angiogenesis and immune exhaustion. ATMs, adipose tissue macrophages; miRNA, microRNA.
Jafari N, Llevenes P, Denis GV. (2022)
Exosomes as novel biomarkers in metabolic disease and obesity-related cancers.
Nat Rev Endocrinol
[Epub ahead of print]. [
abstract
]