Platinum nanoparticles have been demonstrated to have excellent anticancer properties. However, because of the lack of specificity they must be delivered to the tumor in amounts sufficient to reach the desired therapeutic objectives. Interestingly, exosomes are considered as excellent natural selective delivery nanotools, but until know their targeting properties have not being combined with the anticancer properties of platinum nanoparticles.
Researchers from the Universidad de Zaragoza combined the targeting capabilities of exosomes and the antitumoral properties of ultrasmall (< 2 nm) platinum nanoparticles as a novel, low toxicity alternative to the use of cisplatin. A mild methodology based on the room temperature CO-assisted in situ reduction of Pt2+ precursor was employed to preserve the integrity of exosomes, while generating ultrasmall therapeutic PtNPs directly inside the vesicles. The resulting PtNPs-loaded exosomes constitute a novel hybrid bioartificial system that was readily internalized by the target cells inducing antiproliferative response, as shown by flow cytometry and microscopy experiments in vitro. In vivo Pt-Exos showed antitumoral properties similar to that of cisplatin but with a strongly reduced or in some cases no toxic effect, highlighting the advantages of this approach and its potential for translation to the clinic.
Biodistribution of Pt after IV injection of cisplatin and Pt-ExosU251−MG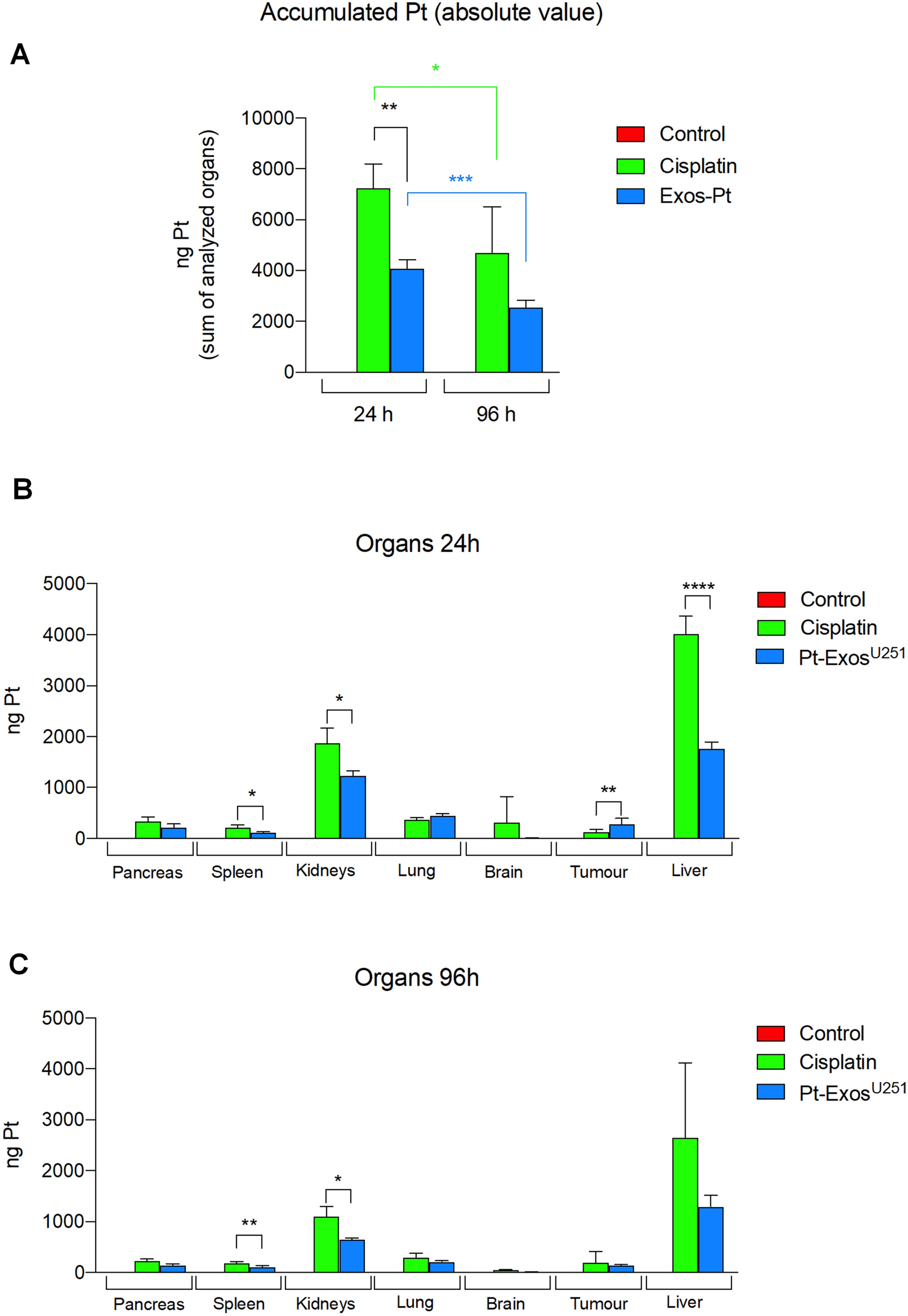 (A Total amount of Pt detected per animal (sum of Pt detected in every organ). B Biodistribution of Pt after 24 h in analyzed organs: pancreas, spleen, kidneys, liver, lung, brain and tumor as absolute amount. C Biodistribution of Pt after 96 h in analyzed organs: pancreas, spleen, kidneys, liver, lung, brain and tumor as absolute amount
In this study, a nanoscale vector based on ultrasmall PtNPs and exosomes has been created exhibiting antitumoral properties comparable or higher to those of the FDA approved cisplatin. The preferential uptake of PtNPs mediated by exosomal transfer between certain cell types has been exploited to create a selective antitumoral novel bioartificial system. We have demonstrated their anticancer properties both in vitro and in vivo comparing the results obtained with the administration of equivalent amounts of cisplatin, and showing a spectacular reduction of toxicity.
Sancho-Albero M, Martín-Pardillos A, Lujan L, Sebastian V, Santamaria J, Martín-Duque P. (2022)
Exosomes loaded with ultrasmall Pt nanoparticles: a novel low-toxicity alternative to cisplatin
.
J Nanobiotechnology
20(1):473. [
article
]