From AJMC by Maggie L. Shaw
This new study explores the utility and potential of noninvasive liquid biopsies as a method of early detection in lung cancer.
Despite the known benefits of solid tumor biopsy in lung cancer and the approval and use of immune checkpoint inhibitors as immunotherapy against this cancer, there are drawbacks to each. These include spatial and temporal tumor heterogeneity and the ever-present potential for disease progression and adverse effects that include myocarditis and thyroiditis, respectively.
The promise of liquid biopsy has moved to the forefront of study in the field of lung cancer—a disease notorious for being diagnosed in its advance stages and having high resultant mortality rates—for several reasons, chief among them being its predictive ability to guide treatment decisions and patient selection for immunotherapy, as well as monitor the genetic environment of the disease.
A new study from China in Molecular Cancer explored liquid biopsy use for lung cancer across early diagnosis, individualized treatment, prognosis prediction, and technology research by focusing on 3 blood components: circulating tumor cells (CTCs), circulating tumor DNA (ctDNA), and exosomes.
Clinical application of liquid biopsy in lung cancer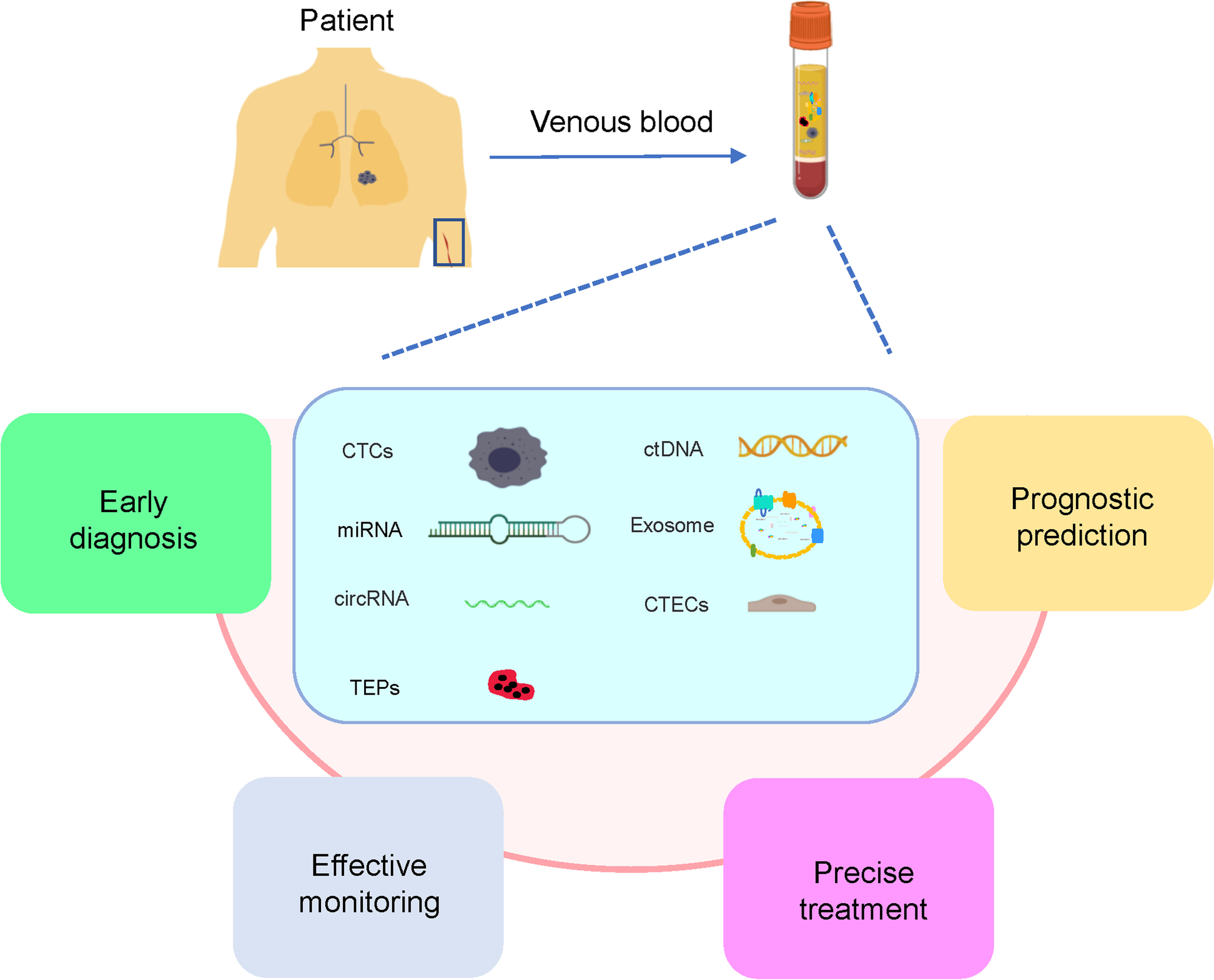 Circulating tumor cells (CTCs), circulating tumor DNA (ctDNA), exosomes, microRNAs (miRNAs), circular RNAs (circRNAs), tumor-educated platelets (TEPs), and circulating tumor vascular endothelial cells (CTECs) in the venous blood from lung cancer patients(e.g., liquid biopsy) have the potential to be used clinically to provide unique opportunities for the real-time monitoring of disease progression and treatment response, in addition to studying tumor heterogeneity
The benefits of analyzing CTCs are that they allow for effective monitoring of patient response to treatment, can help to personalize treatment choice for the patient, and facilitate more defined classification and stratification of patients. For lung cancer, the authors wrote, they contribute to the value of early diagnosis. For example, previous research shows they can be divided into epithelial, mesenchymal, and epithelial mesenchymal CTCs by epithelial mesenchymal transformation biomarkers, higher levels of which are seen in patients with tumor progression.
In addition, next-generation sequencing (NGS) of CTCs in patients with early-stage lung cancer has revealed lung cancer–related gene mutations and metabolites, "suggesting that NGS and metabonomics of CTCs may provide new tumor markers for the early diagnosis of lung cancer." Value has also been seen for using CTCs to predict secondary lung cancers, with one study the authors reviewed finding that CTCs in patients with chronic obstructive pulmonary disease and a smoking history had a 100% predictive value in the presence of pulmonary nodules.
However, the authors did note that CTC detection technology needs improvements that include greater enrichment and counting methods in order to most effectively find dynamic tumor changes and guide individualized treatment, among important areas.
ctDNA enables clinicians to more easily diagnose early-stage cancers, identify small residual diseases or recurrence rates, and provide real-time monitoring of treatment response and prognosis prediction. For diagnostic purposes of early lung cancer in particular, previous research shows that plasma ctDNA levels in persons with non–small cell lung cancer (NSCLC) tend to be higher vs individuals with chronic respiratory inflammation and healthy controls.
Levels of ctDNA have also been shown to positively correlate with tumor volume, "suggesting that measuring ctDNA levels can evaluate the curative effect earlier than imaging methods," the authors wrote. Further, NGS has been used to detect ALK gene rearrangement and fusion genes in plasma ctDNA and is a method shown to have good sensitivity and excellent specificity particularly when evaluating mutation-mediated drug resistance.
Again, though, the authors caution that ctDNA levels still are shown to be low in patients with tumors and have a short half-life. Also, the ability of cell-free DNA to hide ctDNA highlights the need for more sensitive technology. Overall, ctDNA's use in lung cancer needs to be validated in more studies, they wrote.
Recent research has shown secreted exosomal microRNAs (miRNAs) to play important roles in tumor pathology and that lung cancer cells use miRNAs to communicate with other cells, indicating that inhibiting exosome formation and release has utility as a treatment strategy in lung cancer.
The presence of several miRNAs is already confirmed, the study authors noted, as separating patients with lung adenocarcinoma from those with pulmonary granuloma; these include mir-629, mir-100, and mir-30a-3p. In addition, miRNAs that include mir-379, mir-139-5p, and mir-200b-5p are able to distinguish persons with lung cancer from healthy individuals, "which suggests that secreted miRNAs in the [bronchoalveolar lavage] fluid can be used to identify patients with lung cancer."
Further, previous studies have confirmed the utility of specific plasma exosomes to identify cases of adenocarcinoma (eg, mir-30e-3p, mir-181-5p) and squamous cell carcinoma (eg, mir-15b-5p, mir-320b), as well as that inhibiting exosomes may increase lung cancer cell sensitivity to cisplatin, thereby adding a new potential treatment to the lung cancer armamentarium.
The widespread use of exosomes, however, has encountered roadblocks that encompass insufficient efficiency, separation, and purification methods, as well as exorbitant costs, all of which have limited exosome research and applicability. Future studies need to investigate a more reliable exosome extraction method, the study authors emphasized.
"More sufficient evidence is needed to support the transformation of liquid biopsy from the research stage to clinical use, but its potential in the diagnosis and treatment of lung cancer cannot be ignored," they concluded. "Further advanced molecular biological detection methods to enhance the reliability and practicality of liquid biopsy are needed before it can be widely used in clinical practice."
Source – AJMC
Li W, Liu JB, Hou LK, Yu F, Zhang J, Wu W, Tang XM, Sun F, Lu HM, Deng J, Bai J, Li J, Wu CY, Lin QL, Lv ZW, Wang GR, Jiang GX, Ma YS, Fu D. (2022)
Liquid biopsy in lung cancer: significance in diagnostics, prediction, and treatment monitoring
.
Mol Cancer
21(1):25. [
article
]