Liquid biopsy-based biomarkers, including microRNAs packaged within extracellular vesicles, are promising tools for patient management. The cytokine tumor necrosis factor-like weak inducer of apoptosis (TWEAK) is related to PCa progression and is found in the semen of patients with PCa. TWEAK can induce the transfer of exo-oncomiRNAs from tumor cells to body fluids, and this process might have utility in non-invasive PCa prognosis.
Researchers at the Joan XXIII University Hospital, Spain investigated TWEAK-regulated exo-microRNAs in semen and in post-digital rectal examination urine from patients with different degrees of PCa aggressiveness. They first identified 14 exo-oncomiRNAs regulated by TWEAK in PCa cells in vitro, and subsequently validated those using liquid biopsies from 97 patients with PCa. Exo-oncomiR-221-3p, -222-3p and -31-5p were significantly higher in the semen of high-risk patients than in low-risk peers, whereas exo-oncomiR-193-3p and -423-5p were significantly lower in paired samples of post-digital rectal examination urine. A panel of semen biomarkers comprising exo-oncomiR-221-3p, -222-3p and TWEAK was designed that could correctly classify 87.5% of patients with aggressive PCa, with 85.7% specificity and 76.9% sensitivity with an area under the curve of 0.857. The researchers additionally found that TWEAK modulated two exo-oncomiR-221-3p targets, TCF12 and NLK. Overall, they show that liquid biopsy detection of TWEAK-regulated exo-oncomiRNAs can improve PCa prognosis prediction.
Exo-oncomiRNAs are differentially expressed in liquid biopsy
from patients with prostate cancer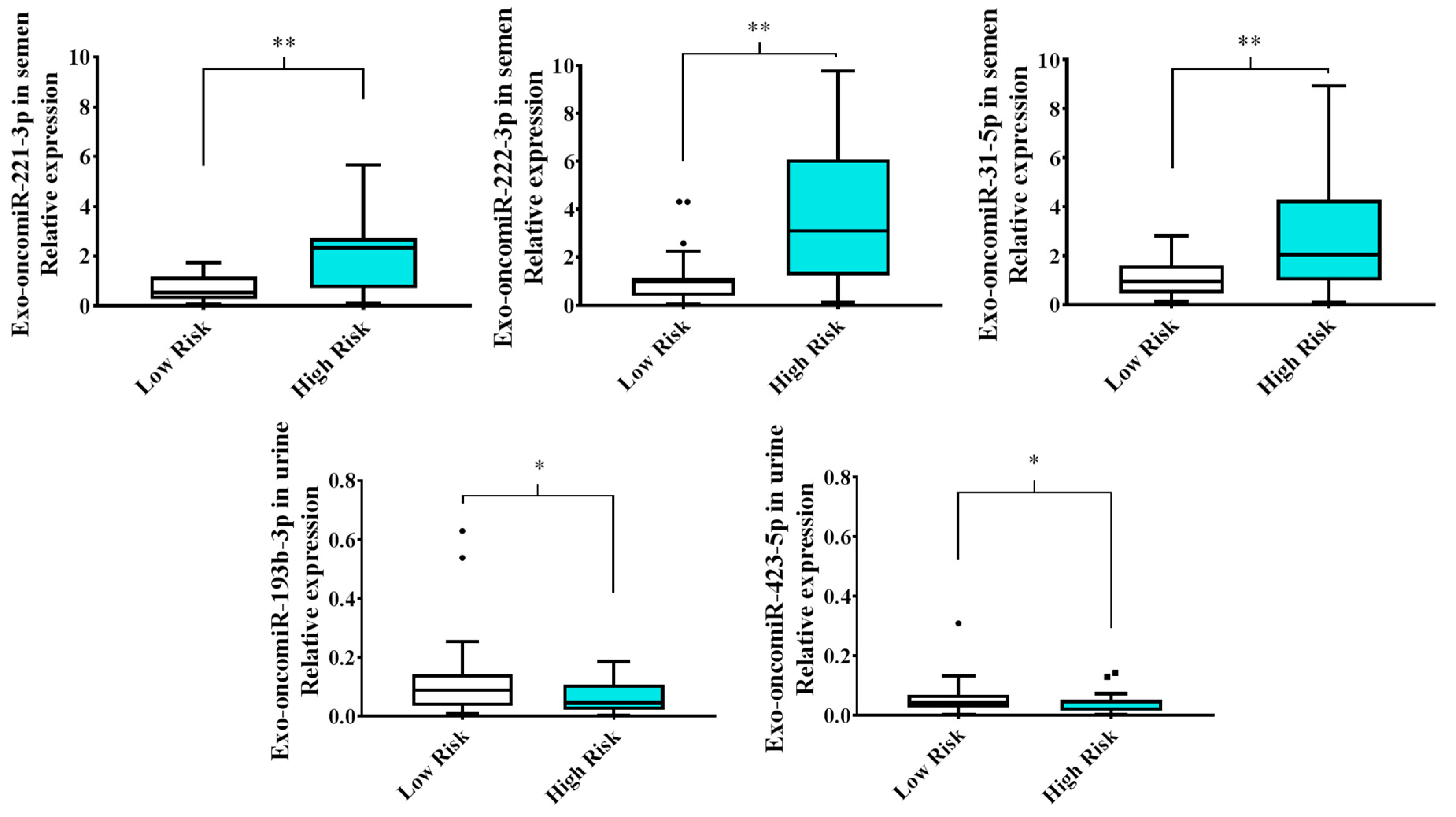 Box plots of relative expression of the 5 discriminatory exo-oncomiRNAs analyzed in semen and post-digital rectal examination urine liquid biopsies from patients with low- and high-risk PCa. Results are expressed as mean values ± SD. Statistical differences between groups are indicated: * p < 0.05; ** p < 0.01.
Ruiz-Plazas X, Altuna-Coy A, Alves-Santiago M, Vila-Barja J, García-Fontgivell JF, Martínez-González S, Segarra-Tomás J, Chacón MR. (2021)
Liquid Biopsy-Based Exo-oncomiRNAs Can Predict Prostate Cancer Aggressiveness
.
Cancers (Basel)
13(2):E250. [
article
]