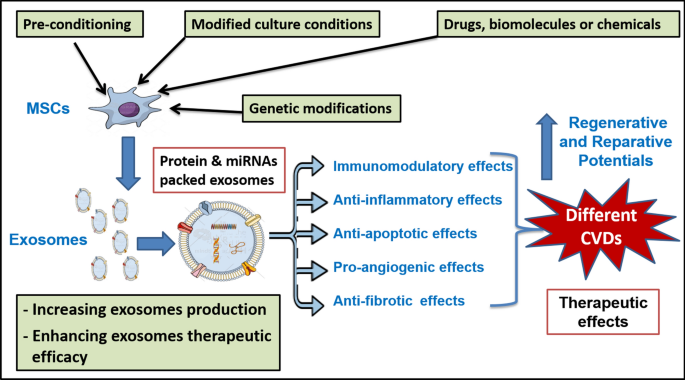 Cardiovascular diseases (CVDs) remain a major health concern worldwide, where mesenchymal stem cells (MSCs) therapy gives great promise in their management through their regenerative and paracrine actions. In recent years, many studies have shifted from the use of transplanted stem cells to their secreted exosomes for the management of various CVDs and cardiovascular-related diseases including atherosclerosis, stroke, myocardial infarction, heart failure, peripheral arterial diseases, and pulmonary hypertension. In different models, MSC-derived exosomes have shown beneficial outcomes similar to cell therapy concerning regenerative and neovascular actions in addition to their anti-apoptotic, anti-remodeling, and anti-inflammatory actions. Compared with their parent cells, exosomes have also demonstrated several advantages, including lower immunogenicity and no risk of tumor formation. However, the maintenance of stability and efficacy of exosomes after in vivo transplantation is still a major concern in their clinical application. Recently, new approaches have been developed to enhance their efficacy and stability including their preconditioning before transplantation, use of genetically modified MSC-derived exosomes, or their utilization as a targeted drug delivery system. Reserchers at Cairo University discuss the use of MSC-derived exosomes as therapies in different CVDs in addition to recent advances for the enhancement of their efficacy in these conditions.
Ahmed L, Al-Massri K. (2022)
New Approaches for Enhancement of the Efficacy of Mesenchymal Stem Cell-Derived Exosomes in Cardiovascular Diseases.
Tissue Eng Regen Med
[Epub ahead of print]. [
article
]