A schematic description of the production of Pd-exosomes for targeted bio-orthogonal catalysis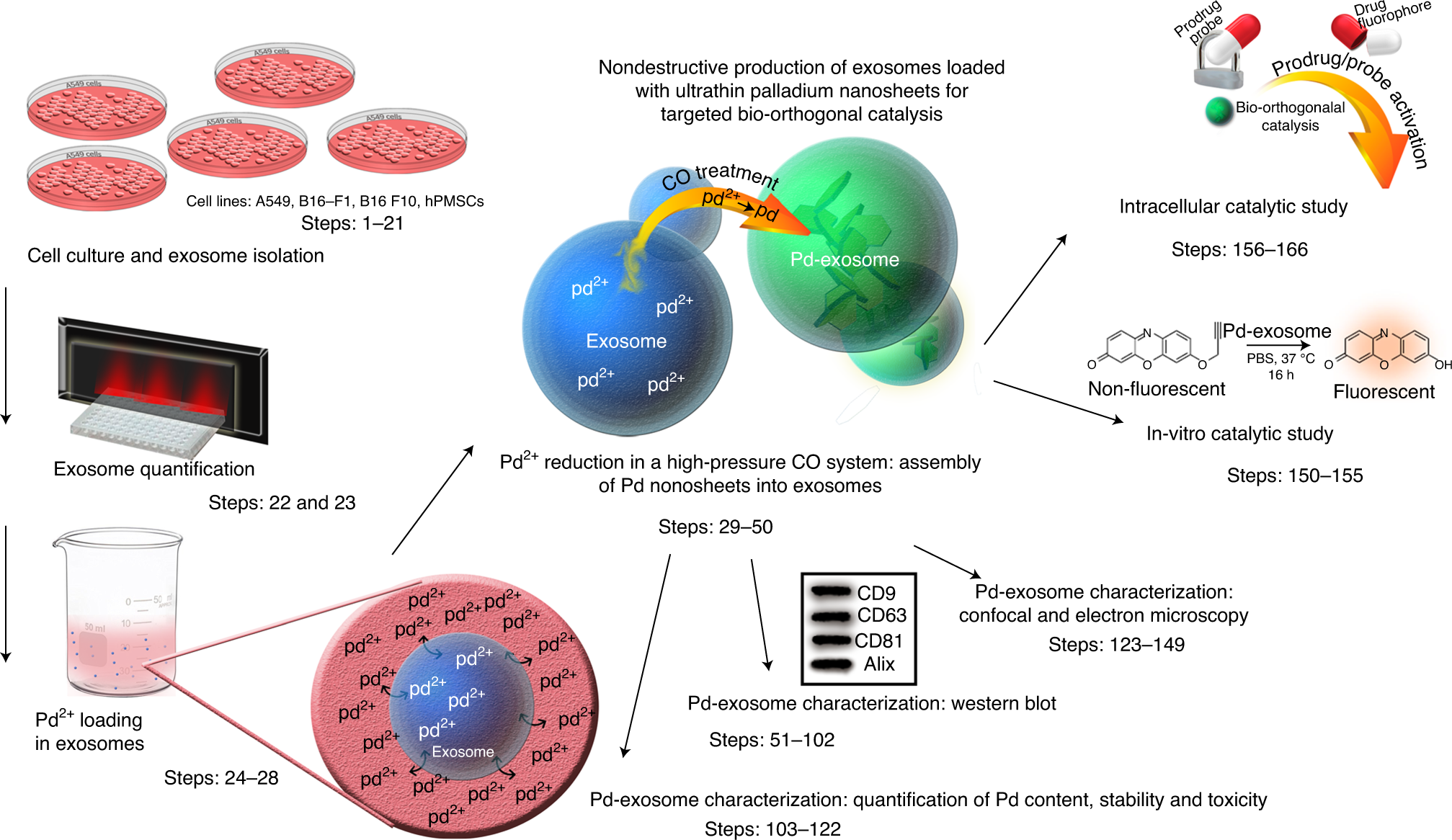 The use of exosomes as selective delivery vehicles of therapeutic agents, such as drugs or hyperthermia-capable nanoparticles, is being intensely investigated on account of their preferential tropism toward their parental cells. However, the methods used to introduce a therapeutic load inside exosomes often involve disruption of their membrane, which may jeopardize their targeting capabilities, attributed to their surface integrins. On the other hand, in recent years bio-orthogonal catalysis has emerged as a new tool with a myriad of potential applications in medicine. These bio-orthogonal processes, often based on Pd-catalyzed chemistry, would benefit from systems capable of delivering the catalyst to target cells. It is therefore highly attractive to combine the targeting capabilities of exosomes and the bio-orthogonal potential of Pd nanoparticles to create new therapeutic vectors.
In this protocol, University of Zaragoza researchers provide detailed information on an efficient procedure to achieve a high load of catalytically active Pd nanosheets inside exosomes, without disrupting their membranes. The protocol involves a multistage process in which exosomes are first harvested, subjected to impregnation with a Pd salt precursor followed by a mild reduction process using gas-phase CO, which acts as both a reducing and growth-directing agent to produce the desired nanosheets. The technology is scalable, and the protocol can be conducted by any researcher having basic biology and chemistry skills in ~3 d.
Sebastian V, Sancho-Albero M, Arruebo M, Pérez-López AM, Rubio-Ruiz B, Martin-Duque P, Unciti-Broceta A, Santamaría J. (2020)
Nondestructive production of exosomes loaded with ultrathin palladium nanosheets for targeted bio-orthogonal catalysis
.
Nat Protoc
[Epub ahead of print]. [
abstract
]