Metastasis, the process by which cancer spreads beyond its site of origin, is associated with poor clinical prognosis, cancer mortality, and resistance to therapy. Non-small cell lung cancer (NSCLC) in particular, has a high metastasis potential, and accounts for the highest cancer mortality worldwide. Hence, it is important to understand the molecular underpinnings driving metastasis – which up until now remains obscure – in order to design therapies for early intervention.
In this study, a group of researchers and clinicians, led by Professor Goh Boon Cher from the Cancer Science Institute of Singapore at the National University of Singapore, discovered that extracellular vesicles (EVs) released from tumours may be responsible for introducing growth and metastasis potential to recipient cells.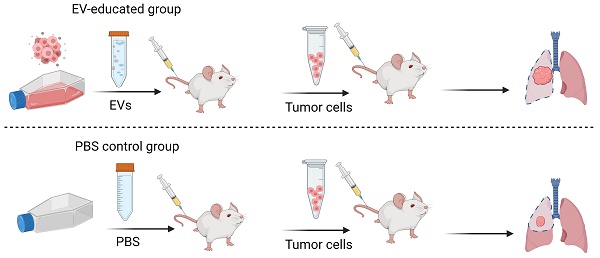 Through profiling tumour-derived EVs with unbiased proteomic mass spectrometry, the research team identified an enriched set of cargo molecules which include FAM3C protein encoded by Interleukin-like EMT inducer (ILEI) was overexpressed in NSCLC tumours, which was strongly correlated with adverse clinical outcomes and cancer metastasis.
Abnormal expression of FAM3C in lung cancer cells augmented cellular transformation and stimulated distant lung tumour colonization in preclinical models. More importantly, the researchers identified a previously unknown mode of microenvironmental crosstalk involving FAM3C in EVs, in which the delivery and uptake of FAM3C via tumour-derived EVs (TDEs) promotes oncogenic signalling in recipient cells. Their findings were published in the prestigious journal Theranostics, on 1 January 2023.
The researchers' findings help to clarify the previously poorly-characterised mechanisms of carcinogenesis and metastasis driven by FAM3C. Furthermore, the study expanded the current knowledge on cell autonomous oncogenic signalling by demonstrating the cell-to-cell crosstalk via EVs. Although this study concentrated on lung cancer, it may be pertinent to other cancers in which FAM3C is highly expressed, especially in the EVs of cancer patients.
Further investigations into the role of FAM3C in other carcinomas would be highly beneficial towards planning treatment strategies, as stratification of patients based on FAM3C expression in plasma EVs may pave the path for developing therapeutic strategies against widespread tumour metastasis.
Source – National University of Singapore
Thuya WL, Kong LR, Syn NL, Ding LW, Cheow ESH, Wong RTX, Wang T, Goh RMW, Song H, Jayasinghe MK, Le MT, Hu JC, Yong WP, Lee SC, Wong AL, Sethi G, Hung HT, Ho PC, Thiery JP, Sze SK, Guo T, Soo RA, Yang H, Lim YC, Wang L, Goh BC. (2023)
FAM3C in circulating tumor-derived extracellular vesicles promotes non-small cell lung cancer growth in secondary sites
.
Theranostics
13(2):621-638. [
article
]