The National Institutes of Health (NIH) launched the Rapid Acceleration of Diagnostics (RADx) initiative to meet the needs for COVID-19 diagnostic and surveillance testing, and to speed its innovation in the development, commercialization, and implementation of new technologies and approaches. The RADx Radical (RADx-Rad) initiative is one component of the NIH RADx program which focuses on the development of new or non-traditional applications of existing approaches, to enhance their usability, accessibility, and/or accuracy for the detection of SARS-CoV-2. Exosomes are a subpopulation of extracellular vesicles (EVs) 30-140 nm in size, that are critical in cell-to-cell communication. The SARS-CoV-2 virus has similar physical and molecular properties as exosomes. Therefore, the novel tools and technologies that are currently in development for the isolation and detection of exosomes, may prove to be invaluable in screening for SARS-CoV-2 viral infection.
Here, researchers from the National Center for Advancing Translational Sciences, NIH describe how novel exosome-based technologies are being pivoted for the detection of SARS-CoV-2 and/or the diagnosis of COVID-19. Considerations for these technologies as they move toward clinical validation and commercially viable diagnostics is discussed along with their future potential. Ultimately, the technologies in development under the NIH RADx-Rad exosome-based non-traditional technologies toward multi-parametric and integrated approaches for SARS-CoV-2 program represent a significant advancement in diagnostic technology, and, due to a broad focus on the biophysical and biochemical properties of nanoparticles, the technologies have the potential to be further pivoted as tools for future infectious agents.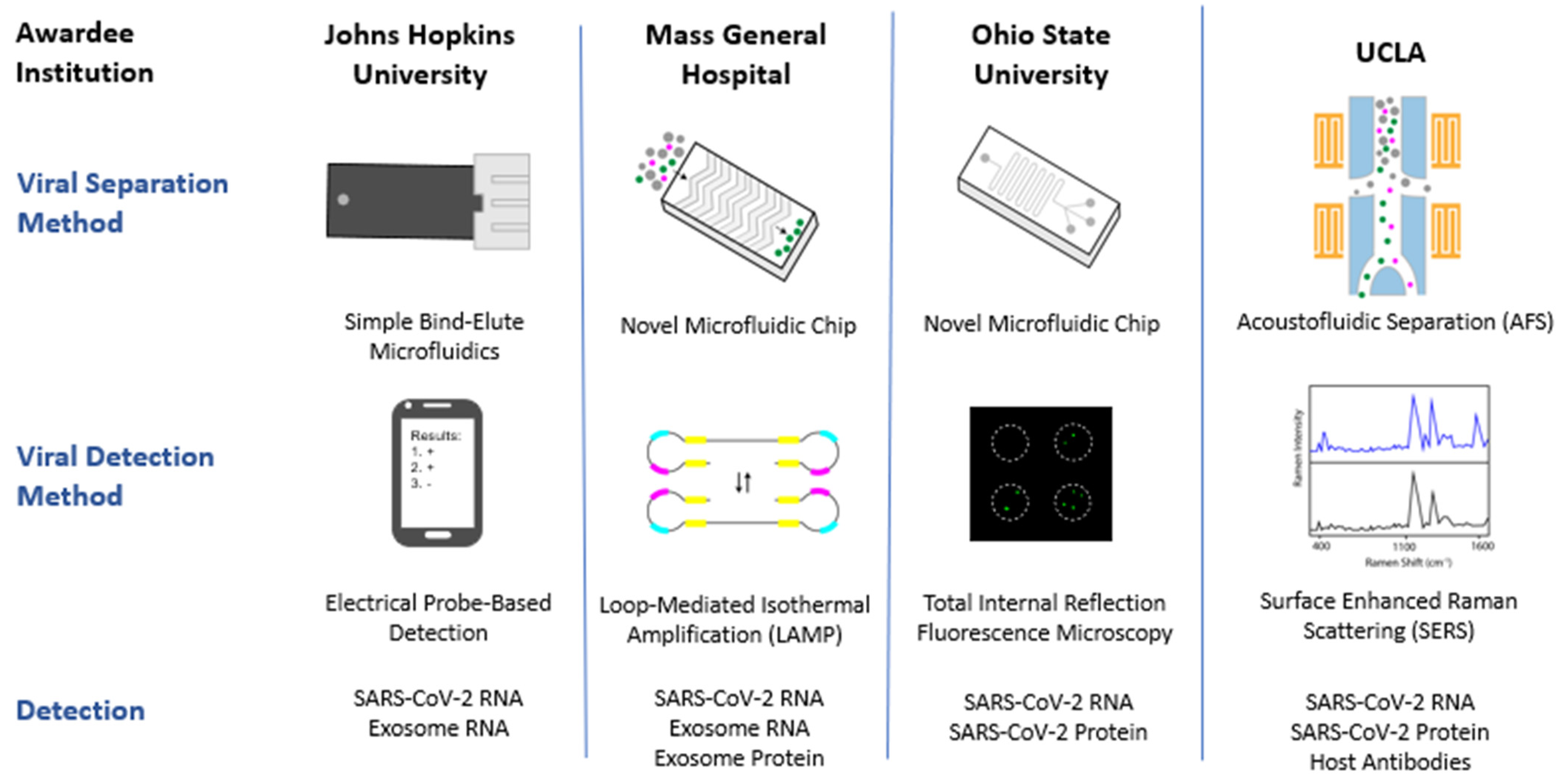 Schematic representing the four projects funded under the RADx-Rad Exosome-based Technologies Towards Multi-Parametric and Integrated Approaches for SARS-CoV-2 FOA. The schematic outlines the awardee institution, the viral separation method, and viral detection method developed under each technology.
Happel C, Peñalber-Johnstone C, Tagle DA.
Pivoting Novel Exosome-Based Technologies for the Detection of SARS-CoV-2
. Viruses 14(5):1083. [
article
]