The transplantation of mesenchymal stem cells-derived secretome, particularly extracellular vesicles is a promising therapy to suppress spinal cord injury-triggered neuroinflammation. However, efficient delivery of extracellular vesicles to the injured spinal cord, with minimal damage, remains a challenge. Zhejiang University School of Medicine researchers have developed a device for the delivery of extracellular vesicles to treat spinal cord injury. The researchers show that the device incorporating mesenchymal stem cells and porous microneedles enables the delivery of extracellular vesicles. They demonstrate that topical application to the spinal cord lesion beneath the spinal dura, does not damage the lesion. They evaluated the efficacy of their device in a contusive spinal cord injury model and found that it reduces the cavity and scar tissue formation, promotes angiogenesis, and improves survival of nearby tissues and axons. Importantly, the sustained delivery of extracellular vesicles for at least 7 days results in significant functional recovery. Thus, this device provides an efficient and sustained extracellular vesicles delivery platform for spinal cord injury treatment.
Schematic illustration of MN-MSC patch implantation at the site of the spinal cord injury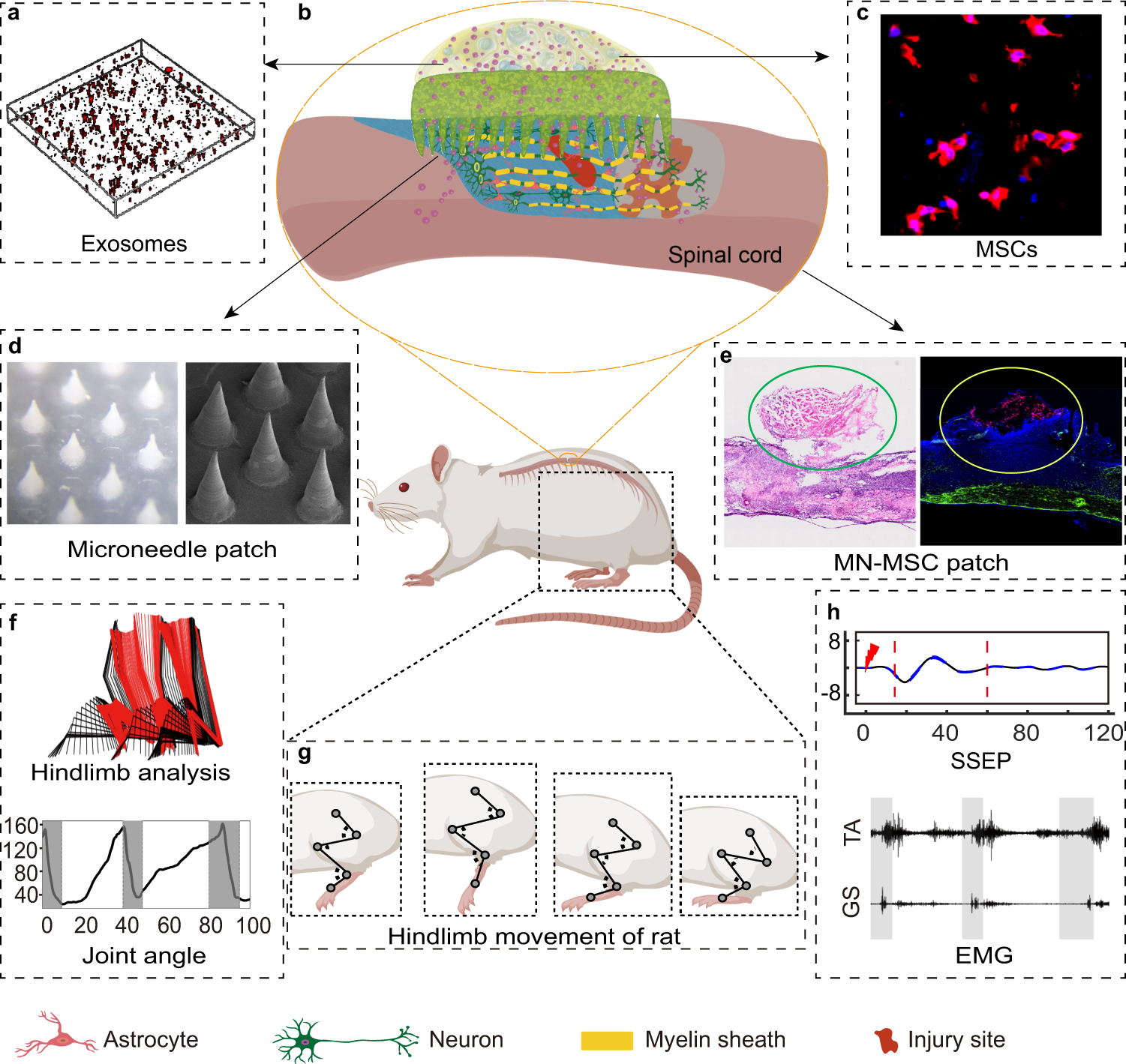 a Schematic depicting exosomes embedded in GelMA hydrogel. b Schematic of the MN-MSC patch. c Representative microscopy images showing MSCs in the patch. d Representative morphological images of the Microneedle patch. e Representative microscopy images of the MN-MSC patch applied to the spinal cord. f Analysis of hindlimb function including joint angle. g Illustration of hindlimb movement. h Electrophysiological analysis of hindlimb movement.
Fang A, Wang Y, Guan N, Zuo Y, Lin L, Guo B, Mo A, Wu Y, Lin X, Cai W, Chen X, Ye J, Abdelrahman Z, Li X, Zheng H, Wu Z, Jin S, Xu K, Huang Y, Gu X, Yu B, Wang X. (2023)
Porous microneedle patch with sustained delivery of extracellular vesicles mitigates severe spinal cord injury.
Nat Commun
14(1):4011. [
article
]