Nano-scale extracellular vesicles are lipid-bilayer delimited particles that are naturally secreted by all cells and have emerged as valuable biomarkers for a wide range of diseases. Efficient isolation of small extracellular vesicles while maintaining yield and purity is crucial to harvest their potential in diagnostic, prognostic, and therapeutic applications. Most conventional methods of isolation suffer from significant shortcomings, including low purity or yield, long duration, need for large sample volumes, specialized equipment, trained personnel, and high costs. To address some of these challenges, our group has reported a novel insulator-based dielectrophoretic device for rapid isolation of small extracellular vesicles from biofluids and cell culture media based on their size and dielectric properties.
Researchers at the University of Cincinnati report a comprehensive characterization of small extracellular vesicles isolated from cancer-patients' biofluids at a twofold enrichment using the device. The three-fold characterization that was performed using conventional flow cytometry, advanced imaging flow cytometry, and microRNA sequencing indicated high yield and purity of the isolated small extracellular vesicles. The device thus offers an efficient platform for rapid isolation while maintaining biomolecular integrity.
Device layout and graphical outline of experimental flow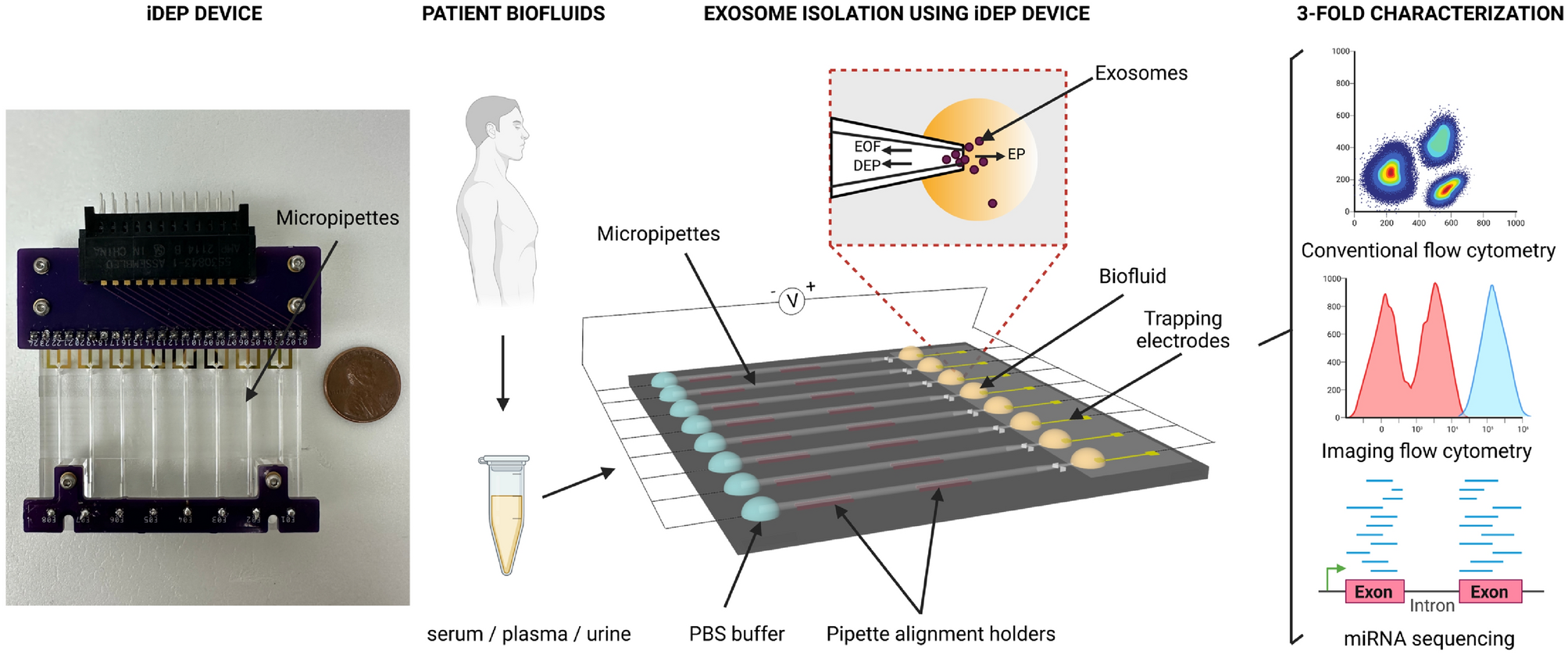 Small extracellular vesicles (sEVs) were simultaneously extracted from human biofluids using the insulator-based dielectrophoretic (iDEP) device, wherein a trapping zone was created at the tip region of micropipettes by balancing the dielectrophoretic (DEP) force with two electrokinetic forces, including electroosmosis (EOF) and electrophoresis (EP). sEVs isolates were comprehensively characterized using flow cytometry, ImageStreamx, and microRNA (miRNA) sequencing.
Sharma M, Sheth M, Poling HM, Kuhnell D, Langevin SM, Esfandiari L. (2023)
Rapid purification and multiparametric characterization of circulating small extracellular vesicles utilizing a label-free lab-on-a-chip device
.
Sci Rep
13(1):18293. [
article
]