In the oncological area, pancreatic cancer is one of the most lethal diseases, with 5-year survival rising just 10% in high-development countries. This disease is genetically characterized by KRAS as a driven mutation followed by SMAD4, CDKN2, and TP53-associated mutations. In clinical aspects, pancreatic cancer presents unspecific clinical symptoms with the absence of screening and early plasmatic biomarker, being that CA19-9 is the unique plasmatic biomarker having specificity and sensitivity limitations.
Researchers at the Oswaldo Cruz Foundation analyzed the plasmatic exosome proteomic profile of 23 patients with pancreatic cancer and 10 healthy controls by using Nanoscale liquid chromatography coupled to tandem mass spectrometry (NanoLC-MS/MS). The pancreatic cancer patients were subdivided into IPMN and PDAC. Thier findings show 33, 34, and 7 differentially expressed proteins when comparing the IPMN vs. control, PDAC-No treatment vs. control, and PDAC-No treatment vs. IPMN groups, highlighting proteins of the complement system and coagulation, such as C3, APOB, and SERPINA. Additionally, PDAC with no treatment showed 11 differentially expressed proteins when compared to Folfirinox neoadjuvant therapy or Gemcitabine adjuvant therapy.
These researchers found plasmatic exosome-derived differentially expressed proteins among cancer patients (IPMN, PDAC) when comparing with healthy controls, which could represent alternative biomarkers for diagnostic and prognostic evaluation, supporting further scientific and clinical studies on pancreatic cancer.
Experimental workflow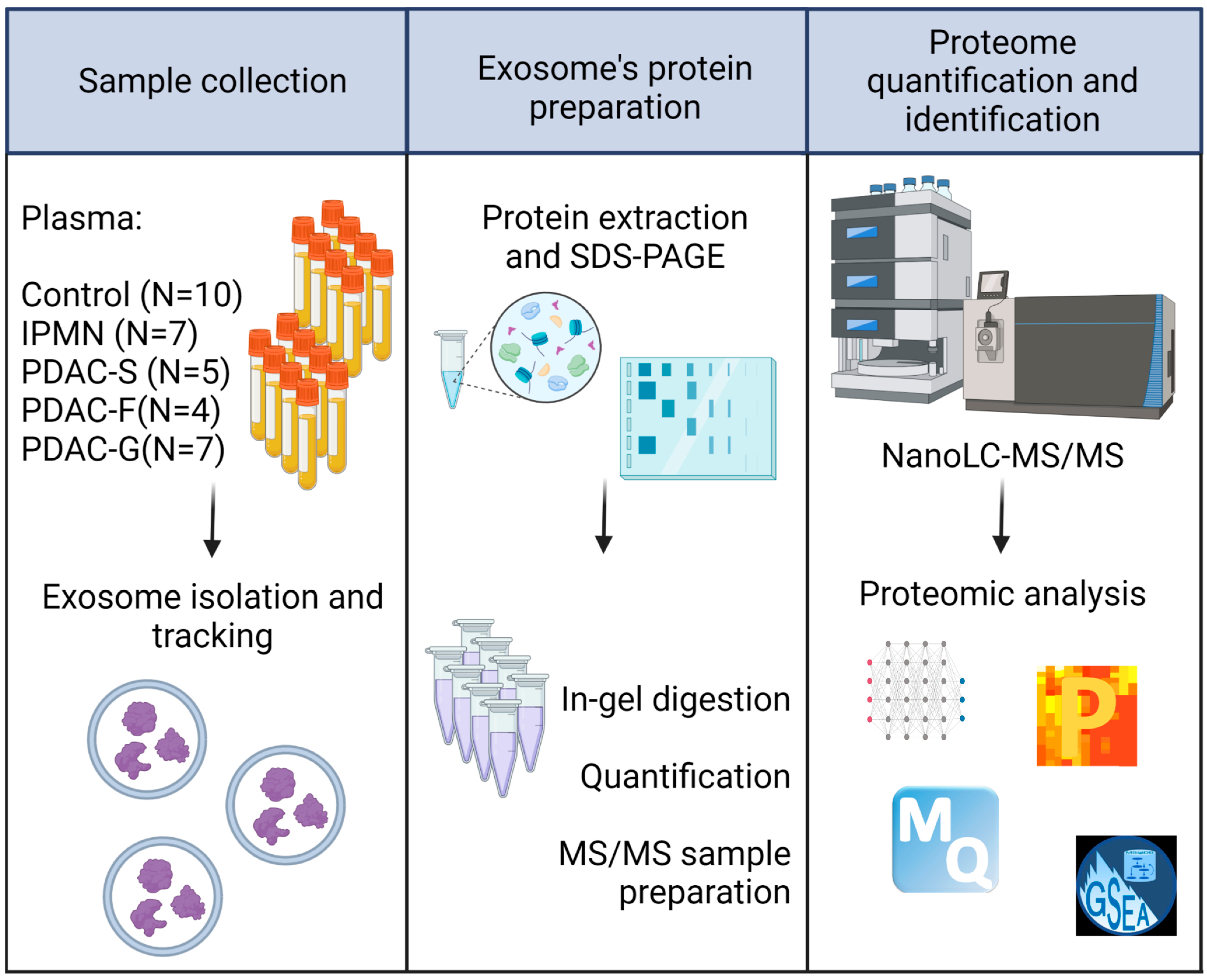 Schematic representation of the in-depth proteome profiling of plasma exosome proteins. IPMN = Intraductal Papillary Mucinous Neoplasm; PDAC-S = Pancreatic ductal adenocarcinoma—no treatment; PDAC-F = Pancreatic ductal adenocarcinoma—Folfirinox; PDAC-G = Pancreatic ductal adenocarcinoma—Gemcitabine.
Marin AM, Batista M, de Azevedo ALK et al. (2023)
Screening of Exosome-Derived Proteins and Their Potential as Biomarkers in Diagnostic and Prognostic for Pancreatic Cancer.
Int J Mol Sci
24(16), 12604. [
article
]