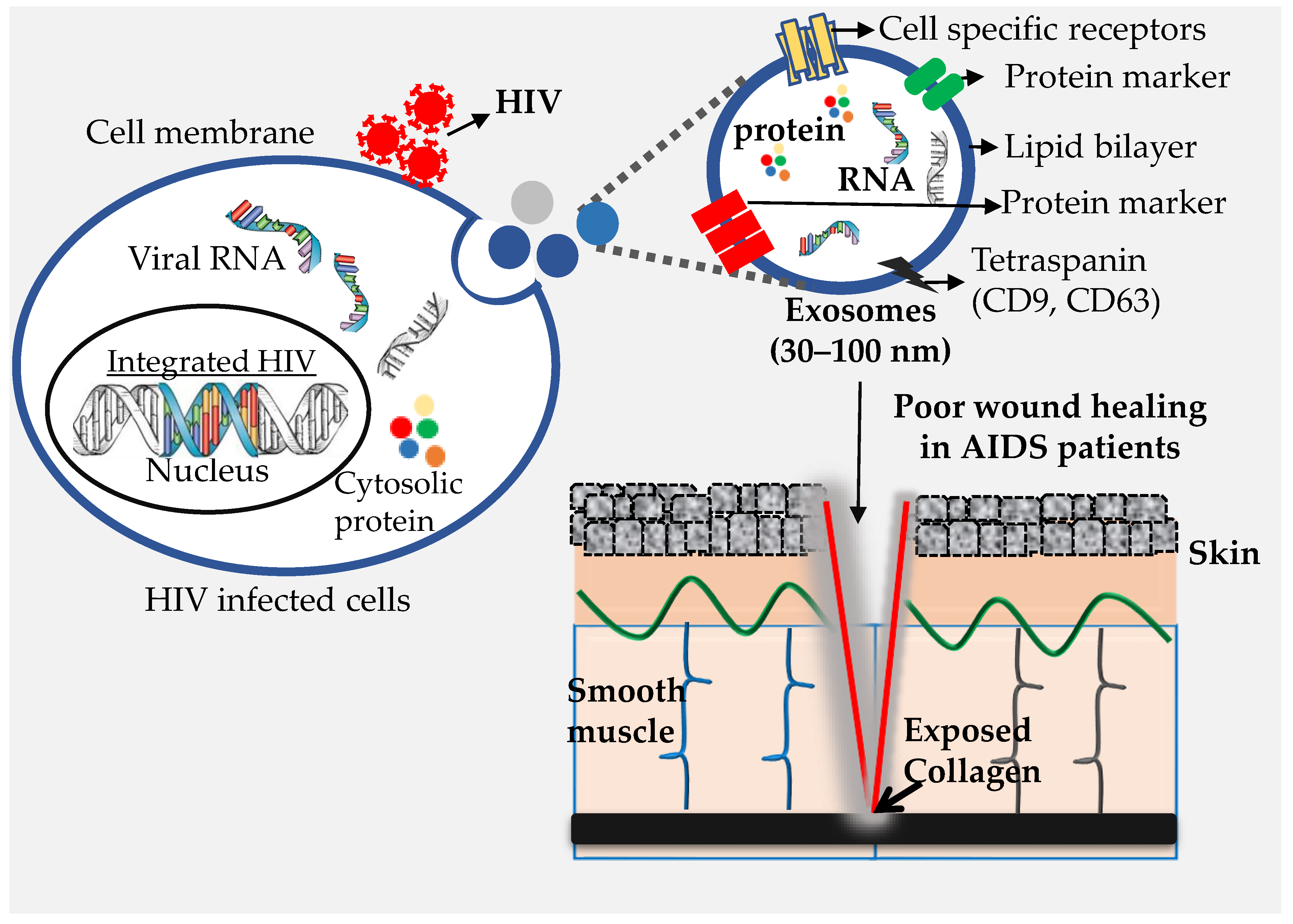 Extracellular vesicles (EVs) play an important role in intercellular communication. They are naturally released from cells into the extracellular environment. Based on their biogenesis, release pathways, size, content, and function, EVs are classified into exosomes, microvesicles (MVs), and apoptotic bodies (ApoBDs). Previous research has documented that EVs, specifically exosomes and MVs, play an important role in HIV infection, either by promoting HIV infection and pathogenesis or by inhibiting HIV-1 to a certain extent. Researchers at Thomas Jefferson University have also previously reported that EVs (particularly exosomes) from vaginal fluids inhibit HIV at the post-entry step (i.e., reverse transcription, integration). Besides the role that EVs play in HIV, they are also known to regulate the process of wound healing by regulating both the immune and inflammatory responses. It is noted that during the advanced stages of HIV infection, patients are at greater risk of wound-healing and wound-related complications. Despite ongoing research, the data on the actual effects of EVs in HIV infection and wound healing are still premature. This review aimed to update the current knowledge about the roles of EVs in regulating HIV pathogenesis and wound healing. Additionally, the researchers highlighted several avenues of EV involvement in the process of wound healing, including coagulation, inflammation, proliferation, and extracellular matrix remodeling. Understanding the role of EVs in HIV infection and wound healing could significantly contribute to the development of new and potent antiviral therapeutic strategies and approaches to resolve impaired wounds in HIV patients.
Alqatawni A, Sharma AL, Attilus B, Tyagi M, Daniel R. (2020)
Shedding Light on the Role of Extracellular Vesicles in HIV Infection and Wound Healing.
Viruses
[Epub ahead of print]. [
article
]