Researchers at the Centre for Innovative Biomedicine and Biotechnology, Portugal investigated the bioactivity of small extracellular vesicles (sEVs), focusing on their local effect in the brain. sEVs from mononuclear cells (MNCs) showed superior effects in vitro to sEVs from mesenchymal stem cells (MSCs) and were able to promote neuroprotection and decrease microglia reactivity in a stroke mouse model.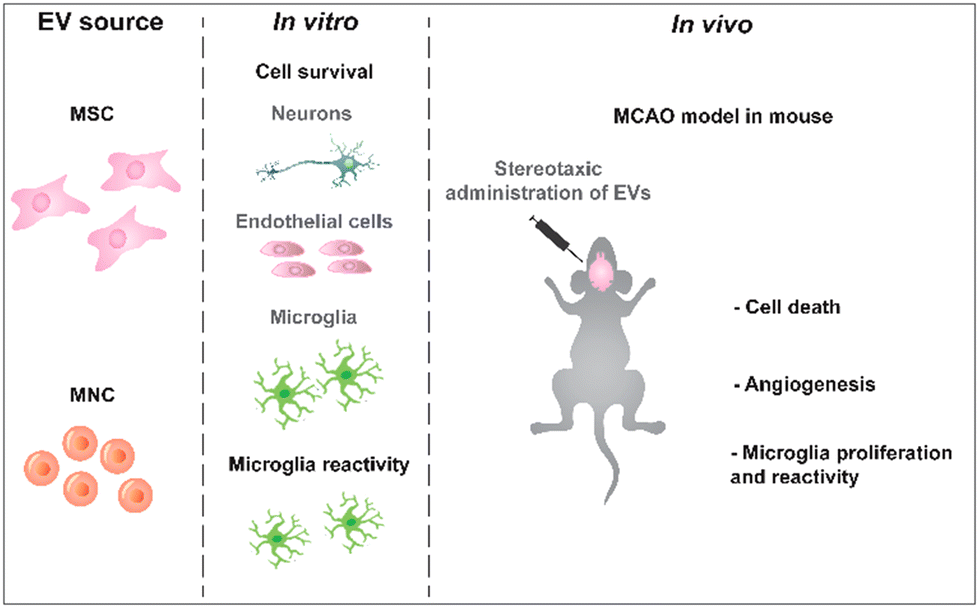 Experimental design. sEVs were isolated from MSCs collected from human Wharton jelly and mononuclear cells from umbilical cord blood. The bioactivity of these sEVs was tested in vitro in different brain cells and then in vivo in a MCAO mouse model.
Lino MM, Rondão T, Banerjee A, Aires I, Rodrigues M, Reis T, Santinha A, Fernandes D, Serrenho D, Sobrino T, Sargento-Freitas J, Pereira FC, Carvalho AL, Ferreira L. (2023)
Small extracellular vesicles administered directly in the brain promote neuroprotection and decreased microglia reactivity in a stroke mouse model
.
Nanoscale
[Epub ahead of print]. [
article
]