Mesenchymal stem cell secretome or conditioned medium (MSC-CM) is a combination of biomolecules and growth factors in cell culture growth medium, secreted by mesenchymal stem cells (MSCs), and the starting point of several derived products. MSC-CM and its derivatives could be applied after injuries and could mediate most of the beneficial regenerative effects of MSCs without the possible side effects of using MSCs themselves. However, before the clinical application of these promising biopharmaceuticals, several issues such as manufacturing protocols and quality control must be addressed.
Researchers from the University of Montpellier underline the influence of the procedure for conditioned medium production on the quality of the secretome and its derivatives and highlights the questions considering cell sources and donors, cell expansion, cell passage number and confluency, conditioning period, cell culture medium, microenvironment cues, and secretome-derived product purification. A high degree of variability in MSC secretomes is revealed based on these parameters, confirming the need to standardize and optimize protocols. Understanding how bioprocessing and manufacturing conditions interact to determine the quantity, quality, and profile of MSC-CM is essential to the development of good manufacturing practice (GMP)-compliant procedures suitable for replacing mesenchymal stem cells in regenerative medicine.
Schematic representation of the procedure, followed in the literature, for obtaining the secretome from mesenchymal stem cells (MSC-CM) and the different variations that can affect its production at the different stages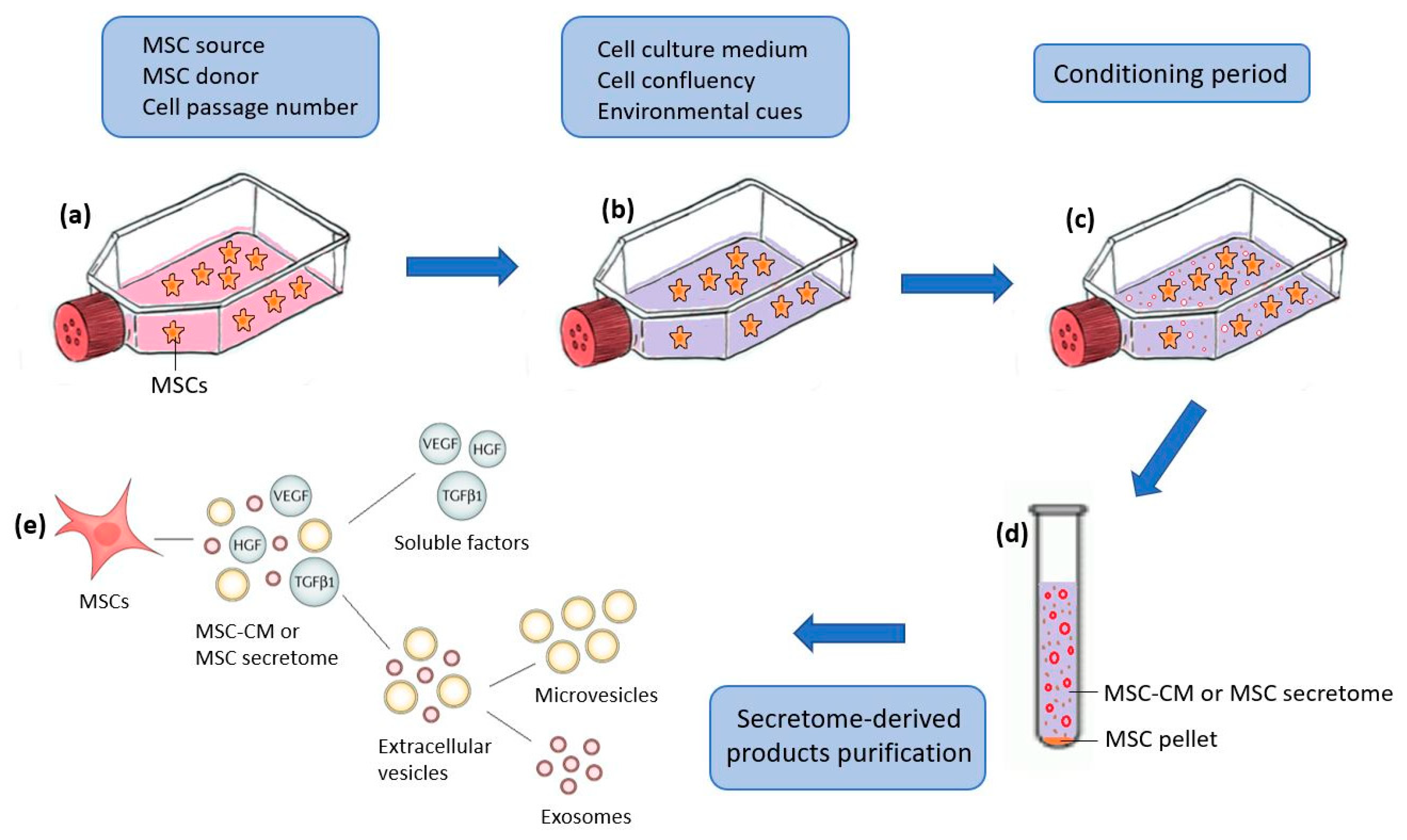 (a) MSC in culture; (b) changing the culture medium of adherent cells after reaching a certain degree of confluency; (c) MSCs, incubated for some time, release their secretome in the growing medium; (d) MSC-CM obtained after collection and centrifugation of the supernatant; (e) purification of MSC-CM-derived products.
Chouaib B, Haack-Sørensen M, Chaubron F, Cuisinier F, Collart-Dutilleul P-Y. (2023)
Towards the Standardization of Mesenchymal Stem Cell Secretome-Derived Product Manufacturing for Tissue Regeneration
.
Int J Mol Sci
24(16):12594. [
article
]