A study by researchers from Hackensack Meridian John Theurer Cancer Center — part of the Georgetown Lombardi Comprehensive Cancer Center, an NCI-designated Comprehensive Cancer Center — has reported the effectiveness of a liquid biopsy genetic sequencing technique for detecting chromosome abnormalities in the blood of people with certain blood cancers. The technique, called targeted next-generation sequencing (NGS), was as effective as conventional methods, namely bone marrow biopsy and cytogenetic testing, for detecting chromosome abnormalities. Targeted NGS  will become the new standard in  managing these patients, through a single test adding convenience, while providing all information required to guide therapies. The study was published in the journal Frontiers in Oncology.
Liquid biopsy is a less invasive method to look for fragments of cancer DNA (cell-free DNA or cfDNA) in the blood, requiring only the drawing of a blood sample. People with blood cancers, such as acute myeloid leukemia (AML), myelodysplastic syndromes (MDS), myeloproliferative neoplasms (MPN), and but also some lymphoid malignancies like CLL, typically have bone marrow biopsies and/or cytogenetic testing of the blood to look for genetic changes that may confirm their diagnosis, predict the behavior of their cancer, help doctors match them with the best treatments, and monitor their progress. Bone marrow biopsy is effective but invasive for patients. Cytogenetic testing is labor-intensive and takes two weeks to obtain results. Whole genome sequencing is expensive and also takes a long time to receive results.
NGS is a newer technique implemented to evaluate structural chromosome changes in blood cancers and can take as few as 5-7 days to provide results. It is more focused and targeted, zeroing in on some 180 DNA mutations involved in cancer, and is more efficient to use. There is a continued need for data to support its accuracy in detecting chromosomal abnormalities in liquid biopsies of patients with blood cancers.
Sensitivity of NGS in detecting chromosomal gain or loss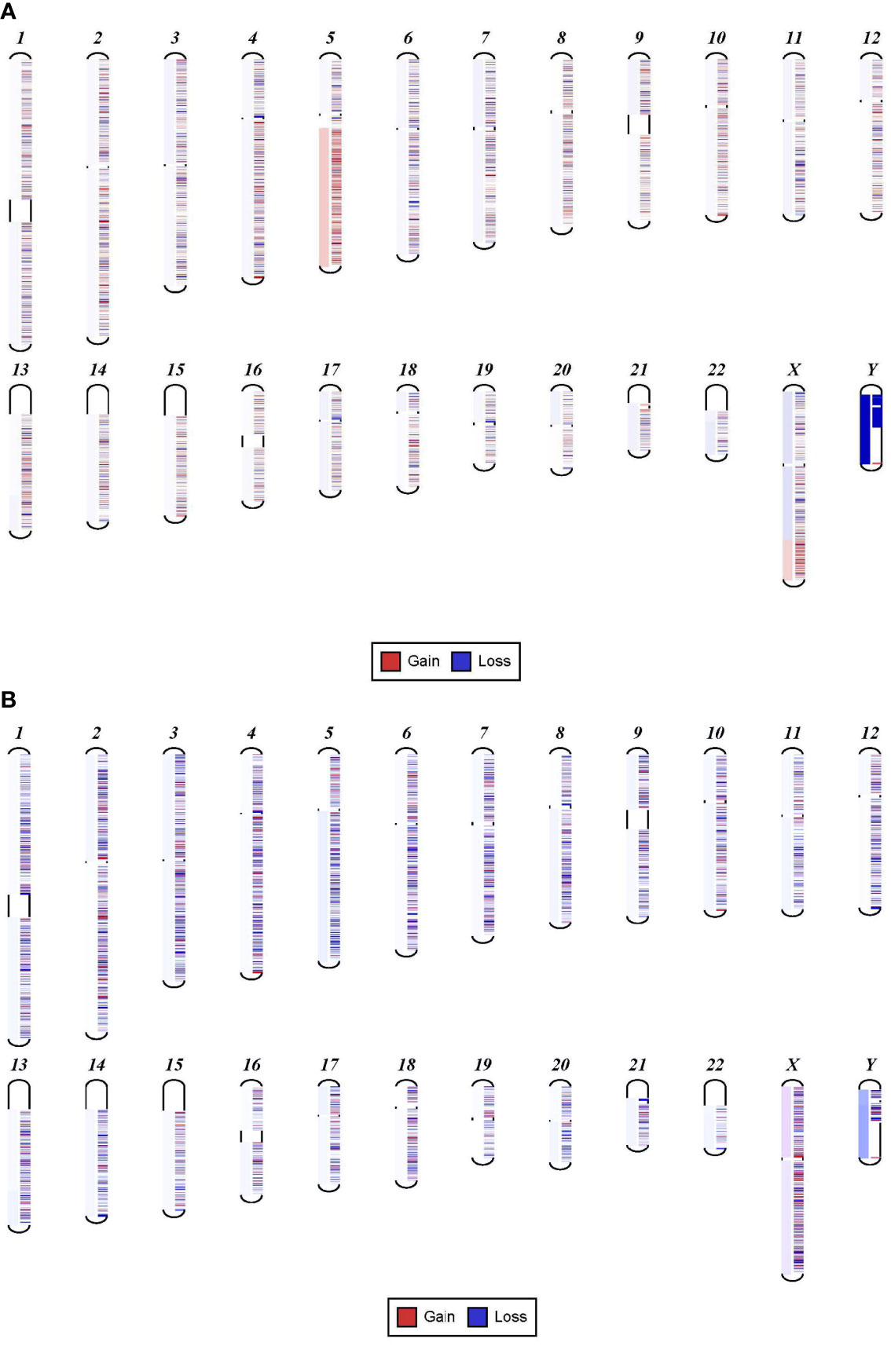 (A) Shows 5q gain in a sample with FLT3 mutation detected at 13%. (B) Shows 5q deletion that is very faint that can be easily missed. This sample has a mutation in TP53 at 8%.
"Our data showed that liquid biopsy using targeted next-generation sequencing [NGS] is a reliable technique for detecting chromosome abnormalities and is concordant with standard procedures used in the care of people with myeloid and lymphoid cancers, such as bone marrow biopsy and cytogenetic testing. Larger studies at multiple centers will be required to confirm these conclusions and determine the optimal use of NGS as a liquid biopsy technique," explained John Theurer Cancer Center hematologist-oncologist Andrew Ip, M.D., who led the study with senior author Maher Albitar, M.D., CEO of Genomic Testing Cooperative, which partners with Hackensack Meridian Health to run a genomic testing laboratory in Hackensack that offers NGS.
Researchers examined 2,821 cfDNA samples from 144 patients with myeloid and lymphoid cancers treated at John Theurer Cancer Center between March 2020 and September 2021. Cytogenetic data from bone marrow biopsies was available for 89 of these patients. Of the 2,821 samples, 54.5% showed evidence of mutations consistent with cancer DNA in the blood. Of those samples, 59% showed abnormalities related to myeloid cancers and 41% related to lymphoid cancers. Structural abnormalities in the chromosomes in cfDNA were found in 16% of myeloid samples and 12% of lymphoid samples. When compared with results from conventional methods, NGS data were consistent with the findings of bone marrow biopsy and with cfDNA data from cytogenetic testing in patients with myeloid cancers
The authors noted that in specific circumstances, targeted NGS may be sufficiently reliable and efficient to provide adequate information without the need for bone marrow biopsy.
"This study supports the use of liquid biopsy for the early diagnosis and monitoring of patients with blood cancers," concluded Dr. Ip. "It provides us with a wealth of genomic information and will likely remain an important tool that we use to provide optimal care for people with these cancers."
Source – Hackensack Meridian Health
Ip A, Della Pia A, Kim GYG, Lofters J, Behrmann J, Patel D, Kats S, Estella JJ, De Dios I, Ma W, Pecora AL, Goy AH, Koprivnikar J, McCloskey JK, Albitar M. (2022)
Reliability of Cell-Free DNA and Targeted NGS in Predicting Chromosomal Abnormalities of Patients With Myeloid Neoplasms.
Front Oncol
12:923809. [
article
]