Lung adenocarcinoma is heterogeneous and hierarchically organized, with a subpopulation of stem-like cells (CSCs) that reside at the apex of the hierarchy, in which exosomes act as important mediators by transporting specific molecules among different cell populations. Although there have been numerous studies on tumor exosomes, the constituents and functional properties of CSC-derived exosomes are still poorly characterized.
Researchers from Jinan University present a detailed transcriptome and proteome atlas of the exosomes released by human lung adenocarcinoma stem-like cells (LSLCs). The transcriptome analysis indicates the specific patterns of exosomal constituents, including the fragmentation of transcripts and the low-level presence of circular RNAs, and identifies multiple exosomal-enriched mRNAs and lncRNAs. Integrative analysis of transcriptome and proteome data reveals the diverse functions of exosomal-enriched RNAs and proteins, many of which are associated with tumorigenesis. Importantly, several LSLC markers we identified are highly expressed in LSLC-derived exosomes and associate with poor survival, which may serve as promising liquid biopsy biomarkers for lung adenocarcinoma diagnosis. This study provides a resource for the future elucidation of the functions of tumor-derived exosomes and their regulatory mechanisms in mediating lung cancer development.
Composition analysis of diverse RNA types in exosomes and their parental cells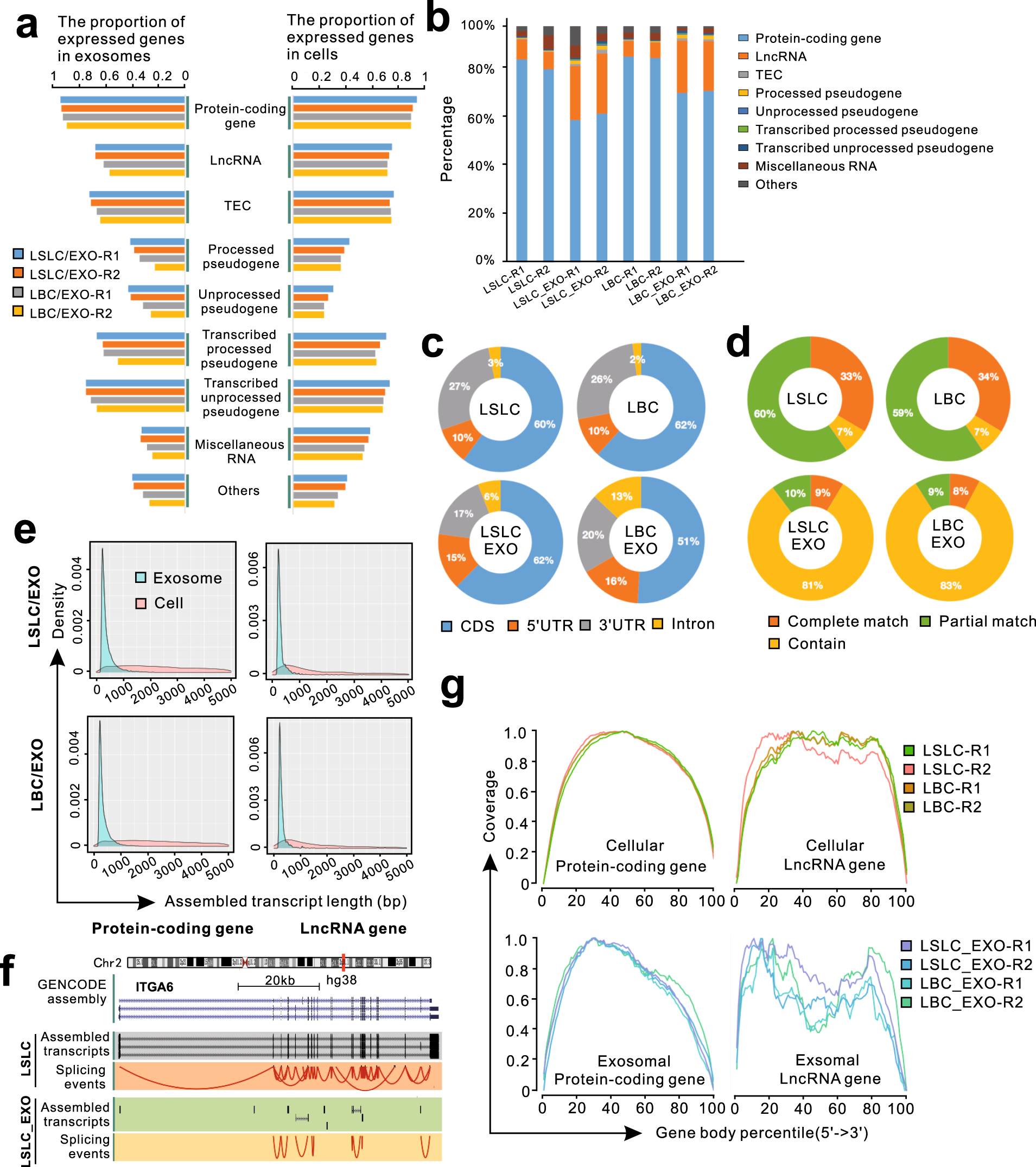 a The proportion of each gene type identified in exosomes (left panel) and cells (right panel) at the transcriptomic level. b Normalized reads distribution of each gene type for each sample. c Percentage of RNA-seq reads mapping to exonic (CDS, 3'UTR, and 5'UTR for protein-coding gene) and intronic gene regions for cellular and exosomal samples. d The statistics of assembled transcripts that matched to reference protein-coding genes. e The length distribution of reference-matched transcripts assembled from exosomes and cells. f The genomic view and splicing events of ITGA6 gene. g The read coverage over gene body.
Luo HT, Zheng YY, Tang J et al. (2021)
Dissecting the multi-omics atlas of the exosomes released by human lung adenocarcinoma stem-like cells.
Genom Med
6, 48. [
article
]