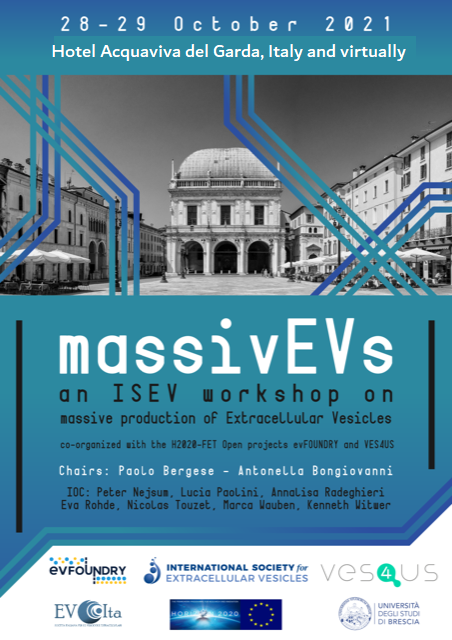 2021 ISEV Workshop: massivEVs – an ISEV workshop on massive production of EVs, coorganized with the H2020-FETOpen projects evFOUNDRY http://www.evfoundry.eu and VES4US https://ves4us.eu
When: 28th-29th October 2021
Where: Brescia, Italy
Venue: Virtual and live at Hotel Acquaviva del Garda: Viale Francesco Agello, 84, 25015 Desenzano del Garda (Brescia), Italy
The goal of the workshop is to address and channel the efforts towards large scale EV production and manufacturing. Themes ranging from the underpinning science and technology of equipment and processes to good manufacturing practices (GMPs) and requirements will be featured.
The workshop will feature a dialogue between an outstanding and diverse group of academic research scientists, clinicians and industrial partners involved in massive production of EVs.
Introductory invited talks, short talks selected from abstracts, posters and roundtable discussions will revolve around four highly interrelated themes related to large-scale EV production:
Massive production from Human sources and applications (including therapeutics, nutraceutics, cosmetics, EV based nanotechnology)
Massive production from other (than human) sources and applications
Upstream and downstream technologies and process upscaling
Validation, standardization and regulatory issues.
LEARN MORE