Unhealable diabetic wounds need to be addressed with the help of newer, more efficacious strategies. Exosomes combined with biomaterials for sustained delivery of therapeutic agents are expected to bring new hope for chronic wound treatment. Here, the engineered exosomes modified for efficiently loading miR146a and attaching to silk fibroin patch (SFP) were demonstrated to promote diabetic wound healing. Silk fibroin binding peptide (SFBP) was screened through phage display, and SFBP-Gluc-MS2 (SGM) and pac-miR146a-pac fusion protein were constructed. The designed exosomes (SGM-Exos, miR146a-Exos, and SGM-miR146a-Exos) were isolated from the engineered placental mesenchymal stem cells (PMSCs) transduced with SGM or/and pac-miR146a-pac protein. Gluc signals indicated SGM-Exo@SFP markedly increased the binding rate and the stability of SGM-Exo. Moreover, the loading efficiency of miR146a in SGM-miR146a-Exos was ten-fold higher than that in miR146a-Exos. Superior to untreated, SGM-miR146a-Exo-only treated, and SFP-only treated groups, SGM-miR146a-Exo@SFP drived wound healing associated with less inflammation, collagen deposition, and neovascularization. The transcriptomics analysis suggested anti-inflammatory and regenerative effects with SGM-miR146a-Exo@SFP treatment. These results show efficient exosome biomaterial-based miRNA delivery systems for regenerative medicine and tissue engineering.
The preparation and characterization of the silk fibroin patch (SFP)
served as exosome-laden scaffolds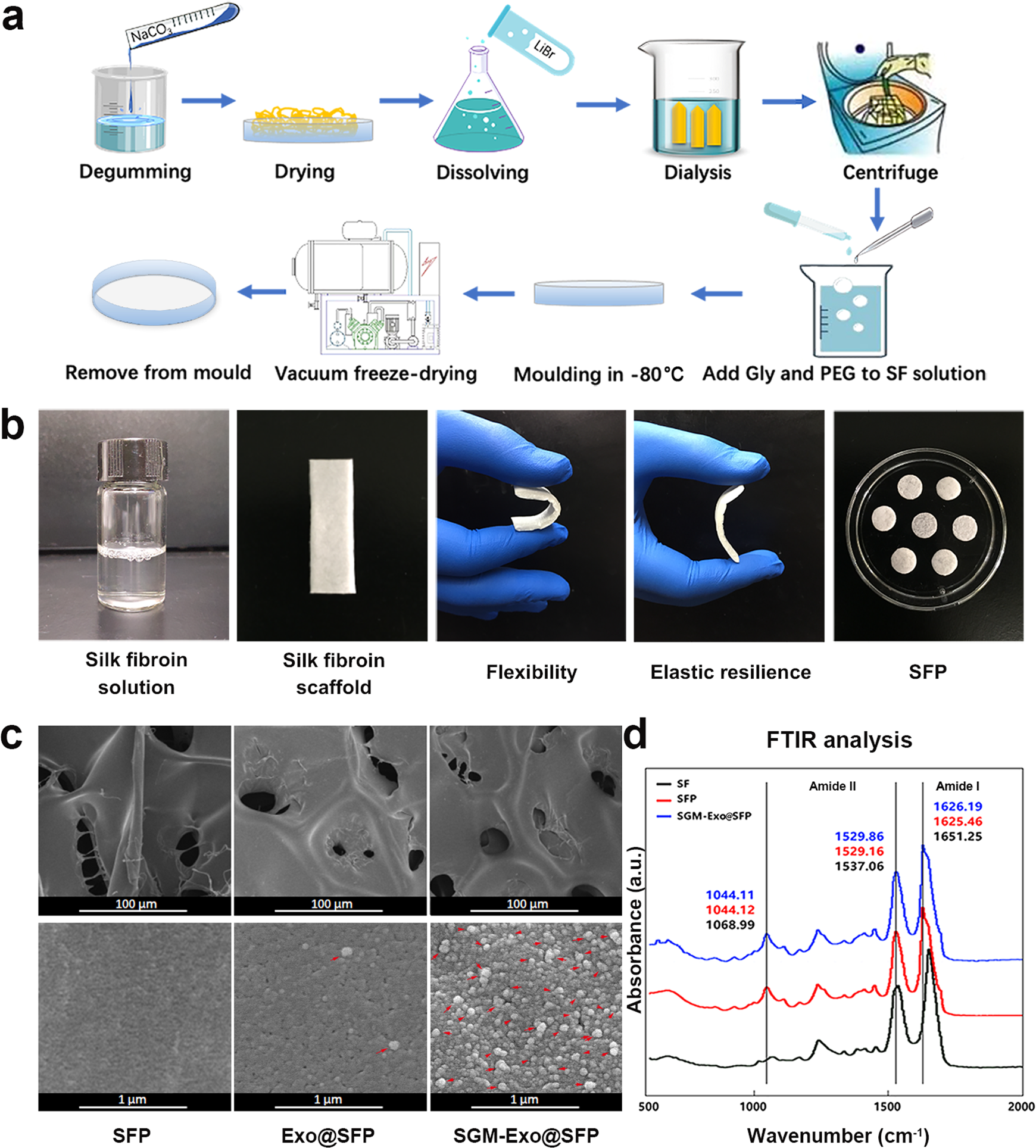 a Schematic illustration of the preparation procedure for SF scaffolds. b Physical pictures of silk fibroin solution, SF scaffold, and SFP. c The structure characterizations of SFP, Exo@SFP, and SGM-Exo@SFP detected by scanning electron microscope (upper scale bars: 100 μm, lower scale bars: 1 μm). The red arrows indicated the exosomes loaded on the SFP. d FTIR spectra analysis of SF, SFP, and SGM-Exo@SFP (n = 4/group)
Li Q, Hu W, Huang Q, Yang J, Li B, Ma K, Wei Q, Wang Y, Su J, Sun M, Cui S, Yang R, Li H, Fu X, Zhang C. (2023)
MiR146a-loaded engineered exosomes released from silk fibroin patch promote diabetic wound healing by targeting IRAK1.
Signal Transduct Target Ther
8(1):62. [
article
]